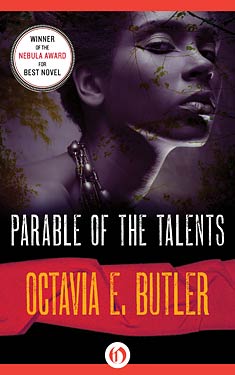 Synopsis
As America rebuilds itself, bigotry threatens a peaceful haven.
Lauren Olamina was only eighteen when her family was killed, and anarchy encroached on her Southern California home. She fled the war zone for the hope of quiet and safety in the north. There she founded Acorn, a peaceful community based on a religion of her creation, called Earthseed, whose central tenet is that God is change. Five years later, Lauren has married a doctor and given birth to a daughter. Acorn is beginning to thrive. But outside the tranquil group's walls, America is changing for the worse.
Presidential candidate Andrew Steele Jarret wins national fame by preaching a return to the values of the American golden age. To his marauding followers, who are identified by their crosses and black robes, this is a call to arms to end religious tolerance and racial equality-a brutal doctrine they enforce by machine gun. And as this band of violent extremists sets its deadly sights on Earthseed, Acorn is plunged into a harrowing fight for its very survival.
Excerpt
They'll make a god of her.
I think that would please her, if she could know about it. In spite of all her protests and denials, she's always needed devoted, obedient followers - disciples - who would listen to her and believe everything she told them. And she needed large events to manipulate. All gods seem to need these things.
Her legal name was Lauren Oya Olamina Bankole. To those who loved her or hated her, she was simply "Olamina".
She was my biological mother.
She is dead.
Copyright © 1998 by Octavia E. Butler
Reviews
Images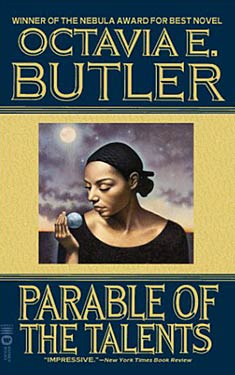 Have you got a cover image that we don't have? Submit an alternate cover image for Parable of the Talents here!