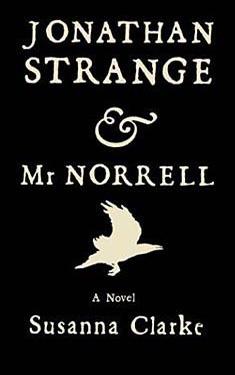 Jonathan Strange & Mr. Norrell
Film & Television Adaptations
Synopsis
English magicians were once the wonder of the known world, with fairy servants at their beck and call they could command winds, mountains, and woods. But by the early 1800s they have long since lost the ability to perform magic. They can only write long, dull papers about it, while fairy servants are nothing but a fading memory.
But at Hurtfew Abbey in Yorkshire, the rich, reclusive Mr Norrell has assembled a wonderful library of lost and forgotten books from England's magical past and regained some of the powers of England's magicians. He goes to London and raises a beautiful young woman from the dead. Soon he is lending his help to the government in the war against Napoleon Bonaparte, creating ghostly fleets of rain-ships to confuse and alarm the French.
All goes well until a rival magician appears. Jonathan Strange is handsome, charming, and talkative-the very opposite of Mr Norrell. Strange thinks nothing of enduring the rigors of campaigning with Wellington's army and doing magic on battlefields. Astonished to find another practicing magician, Mr Norrell accepts Strange as a pupil. But it soon becomes clear that their ideas of what English magic ought to be are very different. For Mr Norrell, their power is something to be cautiously controlled, while Jonathan Strange will always be attracted to the wildest, most perilous forms of magic. He becomes fascinated by the ancient, shadowy figure of the Raven King, a child taken by fairies who became king of both England and Faerie, and the most legendary magician of all. Eventually Strange's heedless pursuit of long-forgotten magic threatens to destroy not only his partnership with Norrell, but everything that he holds dear.
Sophisticated, witty, and ingeniously convincing, Susanna Clarke's magisterial novel weaves magic into a flawlessly detailed vision of historical England. She has created a world so thoroughly enchanting that eight hundred pages leave readers longing for more.
Excerpt
John Uskglass and the Cumbrian Charcoal Burner
This retelling of a popular Northern English folktale is taken from A Child's History of the Raven King by John Waterbury, Lord Portishead. It bears similarities to other old stories in which a great ruler is outwitted by one of his humblest subjects and, because of this, many scholars have argued that it has no historical basis.
Many summers ago in a clearing in a wood in Cumbria there lived a Charcoal Burner. He was a very poor man. His clothes were ragged and he was generally sooty and dirty. He had no wife or children, and his only companion was a small pig called Blakeman. Most of the time he stayed in the clearing which contained just two things: an earth-covered stack of smouldering charcoal and a hut built of sticks and pieces of turf. But in spite of all this he was a cheerful soul - unless crossed in any way.
One bright summer's morning a stag ran into the clearing. After the stag came a large pack of hunting dogs, and after the dogs came a crowd of horsemen with bows and arrows. For some moments nothing could be seen but a great confusion of baying dogs, sounding horns and thundering hooves. Then, as quickly as they had come, the huntsmen disappeared among the trees at the far end of the clearing — all but one man.
The Charcoal Burner looked around. His grass was churned to mud; not a stick of his hut remained standing; and his neat stack of charcoal was half-dismantled and fires were bursting forth from it. In a blaze of fury he turned upon the remaining huntsman and began to heap upon the man's head every insult he had ever heard.
But the huntsman had problems of his own. The reason that he had not ridden off with the others was that Blakeman was running, this way and that, beneath his horse's hooves, squealing all the while. Try as he might, the huntsman could not get free of him. The huntsman was very finely dressed in black, with boots of soft black leather and a jewelled harness. He was in fact John Uskglass (otherwise called the Raven King), King of Northern England and parts of Faerie, and the greatest magician that ever lived. But the Charcoal Burner (whose knowledge of events outside the woodland clearing was very imperfect) guessed nothing of this. He only knew that the man would not answer him and this infuriated him more than ever. "Say something!" he cried.
A stream ran through the clearing. John Uskglass glanced at it, then at Blakeman running about beneath his horse's hooves. He flung out a hand and Blakeman was transformed into a salmon.
The salmon leapt through the air into the brook and swam away. Then John Uskglass rode off.
The Charcoal Burner stared after him. "Well, now what am I going to do?" he said.
He extinguished the fires in the clearing and he repaired the stack of charcoal as best he could. But a stack of charcoal that has been trampled over by hounds and horses cannot be made to look the same as one that has never received such injuries, and it hurt the Charcoal Burner's eyes to look at such a botched, broken thing.
He went down to Furness Abbey to ask the monks to give him some supper because his own supper had been trodden into the dirt. When he reached the Abbey he inquired for the Almoner whose task it is to give food and clothes to the poor. The Almoner greeted him in a kindly manner and gave him a beautiful round cheese and a warm blanket and asked what had happened to make his face so long and sad.
So the Charcoal Burner told him; but the Charcoal Burner was not much practised in the art of giving clear accounts of complicated events. For example he spoke at great length about the huntsman who had got left behind, but he made no mention of the man's fine clothes or the jewelled rings on his fingers, so the Almoner had no suspicion that it might be the King. In fact the Charcoal Burner called him "a black man" so that the Almoner imagined he meant a dirty man - just such another one as the Charcoal Burner himself.
The Almoner was all sympathy. "So poor Blakeman is a salmon now, is he?" he said. "If I were you, I would go and have a word with Saint Kentigern. I am sure he will help you. He knows all about salmon."
"Saint Kentigern, you say? And where will I find such a useful person?" asked the Charcoal Burner eagerly.
"He has a church in Grizedale. That is the road over there."
So the Charcoal Burner walked to Grizedale, and when he came to the church he went inside and banged on the walls and bawled out Saint Kentigern's name, until Saint Kentigern looked out of Heaven and asked what the matter was.
Immediately the Charcoal Burner began a long indignant speech describing the injuries that had been done to him, and in particular the part played by the solitary huntsman.
"Well," said Saint Kentigern, cheerfully. "Let me see what I can do. Saints, such as me, ought always to listen attentively to the prayers of poor, dirty, ragged men, such as you. No matter how offensively those prayers are phrased. You are our special care."
"I am though?" said the Charcoal Burner, who was rather flattered to hear this.
Then Saint Kentigern reached down from Heaven, put his hand into the church font and pulled out a salmon. He shook the salmon a little and the next moment there was Blakeman, as dirty and clever as ever.
The Charcoal Burner laughed and clapped his hands. He tried to embrace Blakeman but Blakeman just ran about, squealing, with his customary energy.
"There," said Saint Kentigern, looking down on this pleasant scene with some delight. "I am glad I was able to answer your prayer."
"Oh, but you have not!" declared the Charcoal Burner. "You must punish my wicked enemy!"
Then Saint Kentigern frowned a little and explained how one ought to forgive one's enemies. But the Charcoal Burner had never practised Christian forgiveness before and he was not in a mood to begin now. "Let Blencathra fall on his head!" he cried with his eyes ablaze and his fists held high. (Blencathra is a high hill some miles to the north of Grizedale.)
"Well, no," said Saint Kentigern diplomatically. "I really cannot do that. But I think you said this man was a hunter? Perhaps the loss of a day's sport will teach him to treat his neighbours with more respect."
The moment that Saint Kentigern said these words John Uskglass (who was still hunting), tumbled down from his horse and into a cleft in some rocks. He tried to climb out but found that he was held there by some mysterious power. He tried to do some magic to counter it, but the magic did not work. The rocks and earth of England loved John Uskglass well. They would always wish to help him if they could, but this power - whatever it was - was something they respected even more.
He remained in the cleft all day and all night, until he was thoroughly cold, wet and miserable. At dawn the unknown power suddenly released him - why, he could not tell. He climbed out, found his horse and rode back to his castle at Carlisle.
'Where have you been?" asked William of Lanchester. "We expected you yesterday."
Now John Uskglass did not want any one to know that there might be a magician in England more powerful than himself. So he thought for a moment. "France," he said.
"France!" William of Lanchester looked surprized. "And did you see the King? What did he say? Are they planning new wars?"
John Uskglass gave some vague, mystical and magician-like reply. Then he went up to his room and sat down upon the floor by his silver dish of water. Then he spoke to Persons of Great Importance (such as the West Wind or the Stars) and asked them to tell him who had caused him to be thrown into the cleft. Into his dish came a vision of the Charcoal Burner.
John Uskglass called for his horse and his dogs, and he rode to the clearing in the wood.
Copyright © 2004 by Susanna Clarke
Reviews
Images