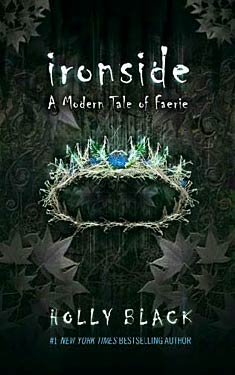 Synopsis
In the realm of Faerie, the time has come for Roiben's coronation. Uneasy in the midst of the malevolent Unseelie Court, pixie Kaye is sure of only one thing -- her love for Roiben. But when Kaye, drunk on faerie wine, declares herself to Roiben, he sends her on a seemingly impossible quest. Now Kaye can't see or speak to Roiben unless she can find the one thing she knows doesn't exist: a faerie who can tell a lie.
Miserable and convinced she belongs nowhere, Kaye decides to tell her mother the truth -- that she is a changeling left in place of the human daughter stolen long ago. Her mother's shock and horror sends Kaye back to the world of Faerie to find her human counterpart and return her to Ironside. But once back in the faerie courts, Kaye finds herself a pawn in the games of Silarial, queen of the Seelie Court. Silarial wants Roiben's throne, and she will use Kaye, and any means necessary, to get it. In this game of wits and weapons, can a pixie outplay a queen?
Holly Black spins a seductive tale at once achingly real and chillingly enchanted, set in a dangerous world where pleasure mingles with pain and nothing is exactly as it appears.
Excerpt
Chapter One
I prefer winter and fall, when you feel the bone structure in the landscape -- the loneliness of it -- the dead feeling of winter. Something waits beneath it -- the whole story doesn't show.
-- ANDREW WYETH
Human girls cry when they're sad and laugh when they're happy. They have a single fixed shape rather than shifting with their whims like windblown smoke. They have their very own parents, whom they love. They don't go around stealing other girls' mothers. At least that's what Kaye thought human girls were like. She wouldn't really know. After all, she wasn't human.
Fingering the hole on the left side of her fishnets, Kaye poked at the green skin underneath as she considered herself in the mirror.
"Your rat wants to come," Lutie-loo said. Kaye turned toward the lidded fish tank, where the doll-size faery had her thin, pale fingers pressed against the outside of the glass. Inside, Kaye's brown rat, Armageddon, sniffed the air. Isaac was curled in a white ball in the far corner. "He likes coronations."
"Can you really understand what he's saying?" Kaye asked, pulling an olive skirt over her head and wriggling it onto her hips.
"He's just a rat," Lutie said, turning toward Kaye. One of her moth wings dusted the side of the cage with pale powder. "Anyone can talk rat."
"Well, I can't. Do I look monochromatic in this?"
Lutie nodded. "I like it."
Kaye heard her grandmother's voice calling from downstairs. "Where are you? I made you a sandwich!"
"Be there in a second!" Kaye shouted back.
Lutie kissed the glass wall of the cage. "Well, can the rat come or not?"
"I guess. Sure. I mean, if you can get him to not run away." Kaye laced up one thick-soled black boot and limped around the room looking for its mate. Only two months ago her bedroom had featured a child's bed and a bookshelf of ancient, unblinking dolls. Now the old bed was in pieces in the attic, the dolls were dressed in punk-rock finery, and above the mattress on the floor Kaye had painted a mural where a headboard might have been. It was half finished -- a tree with deep, intricate roots and gilded bark. Although she'd thought it would, the decorating still hadn't made the room feel like hers.
When he'd seen the mural, Roiben had remarked that she could glamour the room into looking any way she wanted, but a magical veneer -- no matter how lovely -- still didn't seem real to her. Or maybe it seemed too real, too much a reminder of why she didn't belong in the room at all.
Shoving her foot into the other boot, she tugged on her jacket. Leaving her hair green, she let magic slide over her skin, coloring and plumping it. There was a slight prickling as the glamour restored her familiar human face.
She looked at herself a moment longer before pocketing Armageddon, scratching behind the ears of Isaac, and walking toward the door. Lutie followed, flying on moth wings, keeping out of sight as Kaye jogged down the stairs.
"Was that your mother on the phone before?" Kaye's grandmother asked. "I heard it ring." She stood at the kitchen counter, pouring hot grease into a tin can. Two peanut butter and bacon sandwiches sat on chipped plates; Kaye could see the brown meat curling past the edges of the white bread.
Kaye bit into her sandwich, glad that the peanut butter glued her mouth shut.
"I left her a message about the holidays, but can she bother to call me back? Oh no, she's much too busy to talk to me. You'll have to ask her tomorrow night, although why she can't come down here to see you instead of insisting you go visit her at that squalid apartment in the city, I will never know. It must really gall her that you've decided to stay here instead of following her around like a little shadow."
Kaye chewed, nodding along with her grandmother's complaints. In the mirror beside the back door, she could see, beneath the glamour, a girl with leaf green skin, black eyes without a drop of white in them, and wings as thin as plastic wrap. A monster standing beside a nice old lady, eating food intended for another child. A child stolen away by faeries.
Brood parasites. That's what cuckoos were called when they dropped their eggs in other birds' nests. Parasitic bees, too, leaving their spawn in foreign hives; Kaye had read about them in one of the moldering encyclopedias on the landing. Brood parasites didn't bother raising their own babies. They left them to be raised by others -- birds that tried not to notice when their offspring grew huge and hungry, bees that ignored that their progeny did not collect pollen, mothers and grandmothers who didn't know the word "changeling."
"I have to go," Kaye said suddenly.
"Have you thought more about school?"
"Gram, I got my GED," Kaye said. "You saw it. I did it. I'm done."
Her grandmother sighed and looked toward the fridge, where the letter was still tacked with a magnet. "There's always community college. Imagine that -- starting college before the rest of your class even graduates."
"I'll go see if Corny is outside yet." Kaye started toward the door. "Thanks for the sandwich."
The old woman shook her head. "It's too cold out there. Stand on the porch. He should know better than to ask a young girl to wait outside in the snow. I swear, that boy has no manners at all."
Kaye felt the whoosh of air as Lutie flew past her back. Her grandmother didn't even look up. "Okay, Gram. Bye, Gram."
"Stay warm."
Kaye nodded and used the sleeve of her coat to turn the knob of the door so that she could avoid touching the iron. Even the smell of it burned her nose when she got close. Walking through the porch, she used the same trick on the screen door and stepped out into the snow. The trees on the lawn were encased in ice. Hail from that morning had stuck to whatever it had touched, freezing into solid sparkling skins that covered branches and flashed against the dull gray sky. The slightest breeze sent the limbs jangling against one another.
Corny wasn't coming, but her grandmother didn't need to know that. It wasn't lying. After all, faeries couldn't lie. They only bent the truth so far that it snapped on its own.
Above the doorway, a swag of thorn wrapped in green marked the house as watched over by the Unseelie Court. A gift from Roiben. Each time Kaye looked at the branches, she hoped that being protected by the Unseelie Court included being protected from the Unseelie Court.
She turned away, walking past a ranch house with aluminum siding hanging off in patches. The woman who lived there raised Italian ducks that ate all the grass seed anyone in the neighborhood planted. Kaye thought of the ducks and smiled. A trash can rolled in the street, bumping up against plastic bins of beer bottles set out for recycling. Kaye crossed over the parking lot of a boarded-up bowling alley, where a sofa rested near the curb, cushions hard with frost.
Plastic Santas glowed on lawns beside dried grapevine reindeer wrapped with fiber-optic lights. A twenty-four-hour convenience store piped screechy carols that carried through the quiet streets. A robotic elf with rosy cheeks waved endlessly next to several snowman windsocks fluttering like ghosts. Kaye passed a manger missing its baby Jesus. She wondered if kids had stolen him or if the family had just taken him in for the night.
Halfway to the cemetery, she stopped at a pay phone outside a pizza place, put in quarters, and punched in Corny's cell number. He picked it up after the first ring.
"Hey," Kaye said. "Did you decide about the coronation? I'm on my way to see Roiben before it starts."
"I don't think I can go," Corny said. "I'm glad you called, though -- I have to tell you something. I was driving past one of those storage places. You know the kind with the billboards that have quotes on them like 'Support Our Troops' or 'What Is Missing in C-H-blank-blank-C-H? U-R.'"
"Yeah," Kaye said, puzzled.
"Well, this one said 'Life Is Like Licking Honey from a Thorn.' What the fuck is that?"
"Weird."
"No shit, it's weird. What is it supposed to mean?"
"Nothing. Just don't dwell on it," Kaye said.
"Oh, right. Don't dwell. That's me. I'm so good at not dwelling. It's my skill set. If I was going to take one of those tests to see what job I was best suited for, I would rate a perfect ten for 'not dwelling on shit.' And what job do you think that would qualify me for exactly?"
"Storage unit manager," Kaye said. "You'd be the one to put up those sayings."
"Ouch. Right between the legs." She could hear the smile in his voice.
"So, you're really not coming tonight? You seemed so sure it was a good idea for you to face your fears and all that."
There was a long silence on the other end of the line. Just as she would have spoken, he said, "The problem with facing my fears is that they're my fears. Not to mention that a fear of megalomaniacal, amoral fiends is hard to rationalize away." He laughed, a brittle, strange cackle. "Just once I'd like them to finally give up their secrets -- tell me how to really protect myself. How to be safe."
Kaye thought of Nephamael, the last King of the Unseelie Court, choking on iron, and Corny stabbing him again and again.
"I don't think it's that simple," Kaye said. "I mean, it's almost impossible to protect yourself from people, forget faeries."
"Yeah, I guess. I'll see you tomorrow," Corny said.
"Okay." She heard him hang up the phone.
Kaye walked on, drawing her coat more tightly around her. She stepped into the cemetery and started up the snowy hill, muddy and grooved by the sleds that had gone over it. Her gaze strayed to where she knew Janet was buried, although from where Kaye stood, the polished granite stones looked the same with their plastic garlands and wet red bows. She didn't need to see the grave for her steps to slow, weighed down by the memory like sodden clothes must have weighed down Janet's drowning body.
She wondered what happened when the baby cuckoo realized it wasn't like its brothers and sisters. Maybe it wondered where it had come from or what it was. Maybe it just pretended nothi...
Copyright © 2007 by Holly Black
Reviews
Images
No alternate cover images currently exist for this novel.