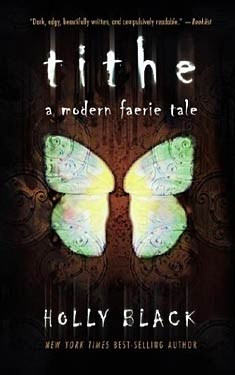 Synopsis
Welcome to the realm of very scary faeries!
Sixteen-year-old Kaye is a modern nomad. Fierce and independent, she travels from city to city with her mother's rock band until an ominous attack forces Kaye back to her childhood home. There, amid the industrial, blue-collar New Jersey backdrop, Kaye soon finds herself an unwilling pawn in an ancient power struggle between two rival faerie kingdoms -- a struggle that could very well mean her death.
Excerpt
Chapter 1
"Coercive as coma, frail as bloom
innuendoes of your inverse dawn
suffuse the self;
our every corpuscle become an elf."
-- Mina Loy,
"Moreover, the Moon,"
The Lost Lunar Baedeker
Kaye spun down the worn, gray planks of the boardwalk. The air was heavy and stank of drying mussels and the crust of salt on the jetties. Waves tossed themselves against the shore, dragging grit and sand between their nails as they were slowly pulled back out to sea.
The moon was high and pale in the sky, but the sun was just going down.
It was so good to be able to breathe, Kaye thought. She loved the serene brutality of the ocean, loved the electric power she felt with each breath of wet, briny air. She spun again, dizzily, not caring that her skirt was flying up over the tops of her black thigh-high stockings.
"Come on," Janet called. She stepped over the overflowing, leaf-choked gutter along the street parallel to the boardwalk, wobbling slightly on fat-heeled platform shoes. Her glitter makeup sparkled under the street lamps. Janet exhaled ghosts of blue smoke and took another drag on her cigarette. "You're going to fall."
Kaye and her mother had been staying at her grandmother's a week already, and even though Ellen kept saying they'd be leaving soon, Kaye knew they really had nowhere to go. Kaye was glad. She loved the big old house caked with dust and mothballs. She liked the sea being so close and the air not stinging in her throat.
The cheap hotels they passed were long closed and boarded up, their pools drained and cracked. Even the arcades were shut down, prizes in the claw machines still visible through the cloudy glass windows. Rust marks above an abandoned storefront outlined the words salt water taffy.
Janet dug through her tiny purse and pulled out a wand of strawberry lipgloss. Kaye spun up to her, fake leopard coat flying open, a run already in her stocking. Her boots had sand stuck to them.
"Let's go swimming," Kaye said. She was giddy with night air, burning like the white-hot moon. Everything smelled wet and feral like it did before a thunderstorm, and she wanted to run, swift and eager, beyond the edge of what she could see.
"The water's freezing," Janet said, sighing, "and your hair is fucked up. Kaye, when we get there, you have to be cool. Don't seem so weird. Guys don't like weird."
Kaye paused and seemed to be listening intently, her upturned, kohl-rimmed eyes watching Janet as warily as a cat's. "What should I be like?"
"It's not that I want you to be a certain way -- don't you want a boyfriend?"
"Why bother with that? Let's find incubi."
"Incubi?"
"Demons. Plural. Like octopi. And we're much more likely to find them" -- her voice dropped conspiratorially -- "while swimming naked in the Atlantic a week before Halloween than practically anywhere else I can think of."
Janet rolled her eyes.
"You know what the sun looks like?" Kaye asked. There was only a little more than a slice of red where the sea met the sky.
"No, what?" Janet said, holding the lipgloss out to Kaye.
"Like he slit his wrists in a bathtub and the blood is all over the water."
"That's gross, Kaye."
"And the moon is just watching. She's just watching him die. She must have driven him
to it."
"Kaye..."
Kaye spun again, laughing.
"Why are you always making shit up? That's what I mean by weird." Janet was speaking loudly, but Kaye could barely hear her over the wind and the sound of her own laughter.
"C'mon, Kaye. Remember the faeries you used to tell stories about? What was his name?"
"Which one? Spike or Gristle?"
"Exactly. You made them up!" Janet said. "You always make things up."
Kaye stopped spinning, cocking her head to one side, fingers sliding into her pockets. "I didn't say I didn't."
The old merry-go-round building had been semi-abandoned for years. Angelic lead faces, surrounded by rays of hair, divided the broken panes. The entire front of it was windowed, revealing the dirt floor, glass glittering against the refuse. Inside, a crude plywood skateboarding ramp was the only remains of an attempt to use the building commercially in the last decade.
Kaye could hear voices echoing in the still air all the way out to the street. Janet dropped her cigarette into the gutter. It hissed and was quickly carried away, sitting on the water like a spider.
Kaye hoisted herself up onto the outside ledge and swung her legs over. The window had been long gone, but her leg scraped against the residue as she slid in, fraying her stockings further.
Layers of paint thickly covered the once-intricate moldings inside the carousel building. The ramp in the center of the room was tagged by local spray-paint artists and covered with band stickers and ballpoint pen scrawlings. And there were the boys.
"Kaye Fierch, you remember me, right?" Doughboy chuckled. He was short and thin, despite his name.
"I think you threw a bottle at my head in sixth grade."
He laughed again. "Right. Right. I forgot that. You're not still mad?"
"No," she said, but her blithe mood was gone, leaving her drained and anxious. Janet climbed on top of the skateboard ramp to where Kenny was sitting, a king in his silver flight jacket, watching the proceedings. Handsome, with dark hair and darker eyes. He held up a nearly full bottle of tequila in greeting.
Marcus handed Kaye the bottle he was drinking from, making a mock throwing motion as he did so. A little splashed on the sleeve of his flannel shirt. "Bourbon. Expensive shit."
She forced a smile as she took it. Marcus resumed gutting a cigar. Even hunched over, he was a big guy. The brown skin on his head gleamed, and she could see where he must have nicked himself shaving it.
"I brought you some candy," Janet said to Kenny. She had candy corn and peanut chews.
"I brought you some candy," Doughboy mocked in a high, squeaky voice, jumping up on the ramp. "Give it here," he said.
Kaye walked around the round room. It was magnificent, old and decayed and fine. The slow burn of bourbon in her throat was perfect for this place, the sort of thing a man in a summer suit who always wore a hat might drink.
"What flavor of Asian are you?" Marcus asked. He had filled the cigar with weed and was chomping down on one end. The thick, sweet smell almost choked her.
She took another swallow from the bottle and tried to ignore him.
"Kaye! You hear me?"
"I'm half Japanese." Kaye touched her hair, blond as her mother's. It was the hair that baffled people.
"Man, you ever see the cartoons there? They have them little, little girls with these pigtails and shit in these short school uniforms. We should have uniforms like that here, man. You ever wear one of those, huh?"
"Shut up, dickhead," Janet said, laughing. "She went to grade school with Doughboy and me."
Kenny looped one finger through the belt rings of Janet's jeans and pulled her over to kiss her.
"Yeah, well, damn." Marcus laughed. "Won't you hold up your hair in those pigtails for a second or something? Come on."
Kaye shook her head. No, she wouldn't.
Marcus and Doughboy started to play Hacky Sack with an empty beer bottle. It didn't break as they kicked it boot to boot, but it made a hollow sound. She took another long sip of bourbon. Her head was already buzzing pleasantly, humming in time with imagined merry-go-round music. She moved farther back into the dim room, to where old placards announced popcorn and peanuts for five cents apiece.
Against the far wall was a black, weathered door. It opened jerkily when she pushed it. Moonlight from the windows in the main room revealed only an office with an old desk and a corkboard with yellowed menus still pinned to it. She stepped inside, even though the light switch didn't work. Feeling in the blackness, she found a knob. This door led to a stairwell with only a little light drifting down from the top. She felt her way up the stairs. Dust covered the palms of her hand as she slid them along the railings. She sneezed loudly, then sneezed again.
At the top was a small window lit brightly by the murderess moon, ripe and huge in the sky. Interesting boxes were stacked in the corners. Then her eyes fell on the horse, and she forgot all the rest. He was magnificent -- gleaming pearl white and covered with tiny pieces of glued-down mirror. His face was painted with red and purple and gold, and he even had a bar of white teeth and a painted pink tongue with enough space to tuck a sugar cube. It was obvious why he'd been left behind -- his legs on all four sides and part of his tail had been shattered. Splinters hung down from where his legs used to be.
Gristle would have loved this. She had thought that many times since she had left the Shore, six years past. My imaginary friends would have loved this. She'd thought it the first time that she'd seen the city, lit up like never-ending Christmas. But they never came when she was in Philadelphia. And now she was sixteen and felt like she had no imagination left.
She tried to set the horse up as if he were standing on his ruined stumps. It wobbled unsteadily but didn't fall. Kaye pulled off her coat and dropped it on the dusty floor, setting the bourbon next to it. She swung one leg over the beast and dropped onto its saddle, using her feet to keep it from falling. She ran her hands down its mane, which was carved in golden ringlets. She touched the painted black eyes and the chipped ears.
The white horse rose on unsteady legs in her mind. The long curls of the gold mane were cool in her hands, and the great bulk of the animal was real and warm beneath her. She wove her hands in the mane and gripped hard, slightly aware of a prickling feeling all through her limbs. The horse whinnied softly beneath her, ready to leap out into the cold, black water. She threw back her head.
"Kaye?" A soft voice snapped her out of her daydream. Kenny was standing near the stairs, regarding her blankly. For a moment, though, she was still fierce. Then she felt her cheeks burning.
Caught in the half-light, she could see him better than she had downstairs. Two heavy silver hoops shone in the lobes of his ears. His short, cinnamon hair was mussed and had a slight wave to it, matching the beginnings of a goatee on his chin. Under the flight jacket, his too-tight white T-shirt showed the easy muscles of someone who was born with them.
He moved toward her, reaching his hand out and then looking at it oddly, as though he didn't remember deciding to do that. Instead he petted the head of the horse, slowly, almost hypnotically.
"I saw you," he said. "I saw what you did."
"Where's Janet?" Kaye wasn't sure what he meant. She would have thought he was teasing her except for his serious face, his slow way of speaking.
He was stroking the animal's mane now. "She was worried about you." His hand fascinated her despite herself. It seemed like he was tangling it in imaginary hair. "How did you make it do that?"
"Do what?" She was afraid now, afraid and flattered both. There was no mocking or teasing in his face. He was watching her so intensely that he seemed drained of expression.
"I saw it stand up." His voice was so low she could almost pretend that she didn't hear him right. His hand dropped to her thigh and slid upward to the cotton crotch of her panties.
Even through she had seen the slow progression of his hand, the touch startled her. She was paralyzed for a moment before she sprang up, letting the horse fall as she did. It crashed down, knocking the bottle of bourbon over, dark liquor pouring over her coat and soaking the bottoms of the dusty boxes like the tide coming in at night.
He grabbed for her before she could think, his hand catching hold of the neck of her shirt. She stepped back, off-balance, and fell, her shirt ripping open over her bra even as he let go of it.
Shoes pounded up the stairs.
"What the fuck?" Marcus was at the top of the stairwell with Doughboy, trying to shove his way in for a look.
Kenny shook his head and looked around numbly while Kaye scrambled for her bourbon-soaked coat.
The boys moved out of the way, and Janet was there, too, staring.
"What happened?" Janet asked, looking between them in confusion. Kaye pushed past her, shoving her hand through an armhole of the coat as she threw it over her back.
"Kaye!" Janet called after her.
Kaye ignored her, taking the stairs two at a time in the dark. There was nothing she could say that would explain what had happened.
She could hear Janet shouting. "What did you do to her? What the fuck did you do?"
Kaye ran across the carousel hall and swung her leg over the sill. The glass she had carefully avoided earlier slashed a thin line on the outside of her thigh as she dropped among the sandy soil and weeds.
The cold wind felt good against her hot face.
Cornelius Stone picked up the new box of computer crap and hauled it into his bedroom to drop next to the others. Each time his mother came home from the flea market with a cracked monitor, sticky keyboard, or just loads of wires, she had that hopeful look that made Corny want to hit her. She just couldn't comprehend the difference between a 286 and a quantum computer. She couldn't understand that the age of guerilla engineering was at a close, that being a motherfucking genius wasn't enough. You needed to be a rich motherfucking genius.
He dropped the box, kicked it hard three times, picked up his denim jacket with the devil's head on the back, and made for the door.
"Can you use that stuff, honey?" His mother was in Janet's room, folding a new pair of secondhand jeans. She held up a T-shirt with rhinestone cats on it. "Think your sister will like it?"
"Thanks, Ma," he said through gritted teeth. "I got to get to work." He walked past The Husband, who was stooped over, getting a beer from the case under the kitchen table. The white cat was waddling along the countertop, its belly dragging with another pregnancy, screaming for canned food or pickles and ice cream or something. He petted its head grudgingly, but before it began rubbing against his hand in earnest, he opened the screen door and went out into the lot.
The cool October air was a relief from the recirculated cigarette smoke.
Corny loved his car. It was a primer-colored Chevy blooming with rust spots and an inner lining that hung like baggy skin from the roof. He knew what he looked like. Beaky. Skinny and tall with bad hair and worse skin. He lived up to his name. Cornelius. Corny. Corn-dog. But not in his car. Inside, he was anonymous.
Every day for the last three weeks he had left a little earlier for work. He would go to the convenience store and buy some food. Then he would drive around, cruise past all the local rutting joints, imagining he had a semiautomatic rifle in the car and counting how many he could have gotten. "Pow," he'd say, softly, to rolled-up windows as a brown-haired boy with broad shoulders and a backwards baseball cap ran up to the giggling girls behind the window of a red truck. "Pow. Pow."
Tonight, he bought a cup of coffee and a package of black licorice. He lingered over a paperback with an embossed metallic dragon on the cover, reading the first few sentences, hoping something would interest him. The game was becoming boring. Worse than boring, it made him feel more pathetic than before. Nearly a week before Halloween and all, this was the point when a real maniac would go and get a gun. He sipped at the coffee and almost spat it out. Too sweet. He sipped at it some more, steeling himself to the taste. Disgusting.
Corny got out of his car and chucked the full coffee into the parking lot. It splashed satisfactorily on the asphalt. He went inside and poured himself another cup. From behind the counter, a matronly woman with frizzy red hair looked him over and pointed to his jacket. "Who are you supposed to be, the devil?"
"I wish," Corny said, dropping a dollar twenty-five on the counter. "I wish."
Copyright © 2002 by Holly Black
Reviews
Images
No alternate cover images currently exist for this novel.