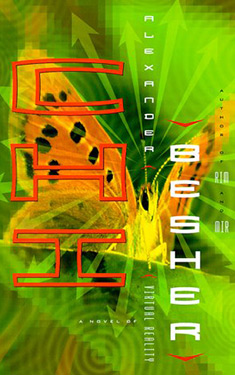 Chi: A Novel of Virtual Reality
Synopsis
It is the year 2038 and the world of cyberspace is being manipulated exclusively for personal gain. Wing Fat, the head of a Southeast Asian biotech drug cartel, is siphoning off vital chi essence from enslaved humans held on plantations in the former Golden Triangle. Bootleg chi products -- in increasingly high demand -- are flooding the world's most violent black markets, offering global consumers everything they have always craved; superenhanced intelligence, greater creativity, heightened sexual powers, multimedia implants, and even "short-term immortality."
If you can afford it, you can have it. But even the 650-pound chi godfather Wing Fat, who is having an illicit affair with his sentient elevator, can't have everything. It is up to Frank and Trevor Gobi, the father-and-son team of virtual, reality investigators, to make sure of that.
In Chi, the third novel of the critically acclaimed Rim series, Alexander Besher takes the reader on an incredible futuristic journey to a fascinating world only the deep recesses of Besher's mind can acutely portray. By following the adventures and exploits of Frank and Trevor Gobi, and their quest to undermine Wing Fat's powerful chi empire, the reader is introduced to the bizarre Southeast Asian world of biotech primates who are half-human and half-orangutan and the bloodthirsty pirates who risk life and limb to smuggle the mutants out of the wild so they can be assimilated into the human world. By uncovering a peculiar tragedy involving a pair of Romeo and Juliet-like primates, the Gobis are led deeper and deeper into the evil empire of Wing Fat until they finally come face to face with the terrifying, gripping truth. Suspenseful and dramatic at every twist and turn, Chi is the perfect final installment to the celebrated Rim series. Besher's first two books, Rim and Mir, were hailed as pioneers in the world of contemporary science fiction, and Chi is the logical culmination to those works.
Wildly imaginative, wickedly funny, and devilishly suspenseful, Chi is a wonderfully crafted, page-turning futuristic thriller. A bold and daring novel, Chi ups the ante on Besher's unique brand of visionary mayhem and takes the reader on a fantastical ride to a world no one has ever seen before.
Excerpt
No excerpt currently exists for this novel.
Reviews
There are currently no reviews for this novel. Be the first to submit one! You must be logged in to submit a review in the BookTrackr section above.
Images
No alternate cover images currently exist for this novel.