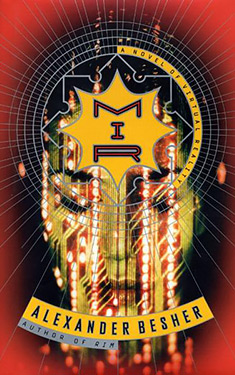 Mir: A Novel of Virtual Reality
Synopsis
Mir. The Russian word for "peace," for "one world." Mir 3.0 is the code name for a piece of neural software that can change the world. And it's escaped carrying a virus that is hell-bent on doing just that.
The year is 2036 and the world is in the grip of a new cold war. The Berlin Wall is back up and concentration camps have been recreated. It is an eerily familiar conflict with a chilling new twist -- this is a battle for control of cyberspace and the Wall and the camps are both of the virtual variety. It's a time when epidermal programming is the cutting-edge fetish among the fringe dwellers of the hacker underworld. These epidermal programs are sentient tattoos that can travel on-line and perform tasks for their owners on the Net. They can even move from body to body in forbidden techno-pagan rituals.
Now the Mir virus is on the loose, traveling as a passenger on the tattoos. Like the tattoos, Mir can migrate from consciousness to consciousness, from body to body, from individuals to entire nations, both off-line and on-line. No one, nothing, is safe in its deadly path.
Trevor Gobi, son of the legendary virtual reality investigator Frank Gobi, is on the trail of Mir. His girlfriend Nelly has become infected through a tattoo, a tattoo that assumes a phantasmic form of its own as it incubates on her body. as it threatens her very existence -- and the entire World Wide Net.
Mir is the second novel in the Rim Trilogy. The first, Rim, was nominated for the Philip K. Dick Award and described as "a book destined to become a classic" by Paul Saffo, director of the Institute of the Future. National Public Radio's Moira Gunn called it "incredibly compelling with its mix of technology and metaphysics, human consciousness, and virtual reality."
In Mir, Besher presents a startlingly complete and daunting vision of a future where the on-line, virtual life has become fully as real and crucial to everyone's survival as mundane reality. It is a wildly imaginative, frighteningly believable thriller that is guaranteed to join Neuromancer and Snow Crash as defining paradigms of the cyberfuture.
Excerpt
No excerpt currently exists for this novel.
Reviews
There are currently no reviews for this novel. Be the first to submit one! You must be logged in to submit a review in the BookTrackr section above.
Images
No alternate cover images currently exist for this novel.