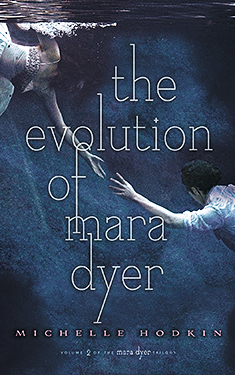 The Evolution of Mara Dyer
Synopsis
The truth about Mara Dyer's dangerous and mysterious abilities continues to unravel in the New York Times bestselling sequel to the thrilling The Unbecoming of Mara Dyer.
Mara Dyer once believed she could run from her past.
She can't.
She used to think her problems were all in her head.
They aren't.
She couldn't imagine that after everything she's been through, the boy she loves would still be keeping secrets.
She's wrong.
In this gripping sequel to The Unbecoming of Mara Dyer, the truth evolves and choices prove deadly. What will become of Mara Dyer next?
Excerpt
1
LILLIAN AND ALFRED RICE
PSYCHIATRIC UNIT
Miami, Florida
I WOKE UP ON THE MORNING OF SOME DAY IN SOME hospital to find a stranger sitting in my room.
I sat up gingerly—my shoulder was sore—and studied the stranger. She had dark brown hair that bled into gray at the roots, and hazel eyes with webs of crow's feet at the corners. She smiled at me, and her whole face moved.
"Good morning, Mara," she said.
"Good morning," I said back. My voice was low and hoarse. It didn't sound like my own.
"Do you know where you are?"
She obviously didn't realize that the floor directory was positioned directly outside the window behind her, and that from the bed, I had a clear view. "I'm at the Lillian and Alfred Rice Psychiatric Unit." Apparently.
"Do you know who I am?"
I had no idea, but I tried not to show it; she wouldn't have asked me if we'd never met, and if we had met, I should remember her. "Yes," I lied.
"What's my name?"
Damn. My chest rose and fell quickly with my breath.
"I'm Dr. West," she said evenly. Her voice was warm and friendly but not at all familiar. "We met yesterday, when you were brought in by your parents and a detective by the name of Vincent Gadsen."
Yesterday.
"Do you remember?"
I remembered seeing my father lying pale and wounded in a hospital bed after he was shot by the mother of a murdered girl.
I remembered that I was the one who made her do it.
I remembered going to the police station to confess to stealing my teacher's EpiPen and releasing fire ants in her desk, which is why she died of anaphylactic shock.
I remembered that it wasn't true—just a lie I would feed the police so they would keep me from hurting anyone I loved again. Because they wouldn't believe I wished my teacher dead and that not long after, she died. Choked to death on a swollen tongue, exactly the way I imagined she would.
I remembered that before I could tell anyone any of this, I saw Jude at the Thirteenth Precinct of the Metro Dade Police Department. Looking very much alive.
But I did not remember coming here to the hospital. I didn't remember being brought. After Jude appeared, I remembered nothing else.
"You were admitted yesterday afternoon," the stranger—Dr. West—said. "The detective called your parents when they couldn't get you to stop screaming."
I closed my eyes and saw Jude's face as he walked by me. Brushed past me. Smiled. The memory stained the backs of my eyelids, and I opened them quickly, just to see something else.
"You told them that your boyfriend, Jude Lowe, who you thought died in a building collapse in December, is alive."
"Ex," I said quietly, fighting to stay calm.
"Excuse me?"
"Ex-boyfriend."
Dr. West tilted her head slightly and employed her carefully neutral psychologist expression, one I recognized well since I'd seen it often on my psychologist mother. Particularly in the past few months.
"You said that you caused the abandoned asylum in Rhode Island to collapse, crushing your best friend, Rachel, and Jude's sister, Claire, inside. You said Jude sexually assaulted you, which is why you tried to kill him. And you said he survived. You said he's here."
She was perfectly calm as she spoke, which magnified my panic. Those words in her mouth sounded crazy, even though they were true. And if Dr. West knew, then so did—
"Your mother brought you here for an evaluation."
My mother. My family. They would have heard the truth too, even though I hadn't planned to tell it. Even though I didn't remember telling it.
And this was where it got me.
"We didn't begin yesterday because you were sedated."
My fingers wandered up my arm, beneath the short sleeve of my white T-shirt. There was a Band-Aid on my skin, covering what must have been the injection site.
"Where is she?" I asked, picking at the Band-Aid.
"Where is who?"
"My mother." My eyes scanned the hallway through the glass, but I didn't see her. The hall looked empty. If I could just talk to her, maybe I could explain.
"She's not here."
That didn't sound like my mother. She didn't leave my side once when I was admitted to the hospital after the asylum collapsed. I told Dr. West as much.
"Would you like to see her?"
"Yes."
"Okay, we can see if we can work that out later."
Her tone made it sound like that would be a treat for good behavior, and I didn't like it. I swung my legs over the bed and stood up. I was wearing drawstring pants, not the jeans I last remembered myself in. My mother must have brought them from home. Someone must have changed me. I swallowed hard. "I think I want to see her now."
Dr. West stood up as well. "Mara, she isn't here."
"Then I'll go find her," I said, and started looking for my Chucks. I crouched to look under the bed, but they weren't there.
"Where are my shoes?" I asked, still crouched.
"We had to take them."
I rose then, and faced her. "Why?"
"They had laces."
My eyes narrowed. "So?"
"You were brought here because your mother thought you may be a danger to yourself and others."
"I really need to talk to her," I said then, struggling to keep my voice even. I bit down hard on my bottom lip.
"You'll be able to."
"When?"
"Well, I'd like you to speak with someone first, and have a doctor come in, just to make sure you're—"
"And if I don't want to?"
Dr. West just looked at me. Her expression was sad.
My throat wanted to close. "You can't keep me here unless I consent," I managed to say. I knew that much, at least. I was a lawyer's daughter and I was seventeen years old. They couldn't keep me here unless I wanted to be kept. Unless—
"You were screaming and hysterical and you slipped. When one of our nurses tried to help you up, you punched her."
No.
"It became an emergency situation, so under the Baker Act, your parents were able to consent for you."
I whispered so I wouldn't scream. "What are you saying?"
"I'm sorry, but you've been involuntarily committed."
Copyright © 2012 by Michelle Hodkin
Reviews
There are currently no reviews for this novel. Be the first to submit one! You must be logged in to submit a review in the BookTrackr section above.
Images
No alternate cover images currently exist for this novel.