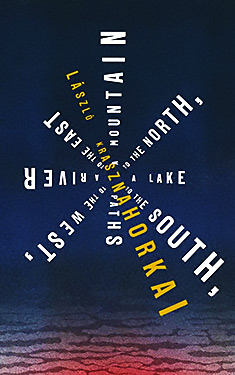 A Mountain to the North, a Lake to the South, Paths to the West, a River to the East
Synopsis
A quiet, poetic, and exquisitely gorgeous novel describing a wandering mythic figure in a Kyoto monastery...
The grandson of Prince Genji lives outside of space and time and wanders the grounds of an old monastery in Kyoto. The monastery, too, is timeless: a place of prayer and deliverance, with barely a trace of any human presence. The wanderer is searching for a garden that has long captivated him: "he continually saw the garden in his mind's eye without being able to touch its existence."
This exquisitely beautiful novel by National Book Award--winner László Krasznahorkai - perhaps his most serene and poetic work - describes a search for the unobtainable and the riches to be discovered along the way. Despite the difficulties in finding the garden, the reader is closely introduced to the construction processes of the monastery (described in poetic detail) as well as the geological and biological processes of the surrounding area (the underground layers revealed beneath a bed of moss, the travels of cypress-tree seeds on the wind, feral foxes and stray dogs meandering outside the monastery's walls), making this an unforgettable meditation on nature, life, history, and being.
Excerpt
No excerpt currently exists for this novel.
Reviews
Images
No alternate cover images currently exist for this novel.