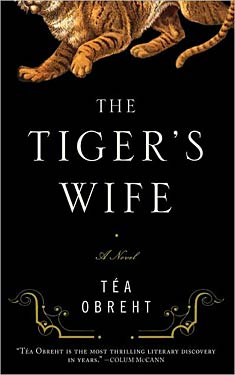 Synopsis
Weaving a brilliant latticework of family legend, loss, and love, Téa Obreht, the youngest of The New Yorker's twenty best American fiction writers under forty, has spun a timeless novel that will establish her as one of the most vibrant, original authors of her generation.
In a Balkan country mending from years of conflict, Natalia, a young doctor, arrives on a mission of mercy at an orphanage by the sea. By the time she and her lifelong friend Zóra begin to inoculate the children there, she feels age-old superstitions and secrets gathering everywhere around her. Secrets her outwardly cheerful hosts have chosen not to tell her. Secrets involving the strange family digging for something in the surrounding vineyards. Secrets hidden in the landscape itself.
But Natalia is also confronting a private, hurtful mystery of her own: the inexplicable circumstances surrounding her beloved grandfather's recent death. After telling her grandmother that he was on his way to meet Natalia, he instead set off for a ramshackle settlement none of their family had ever heard of and died there alone. A famed physician, her grandfather must have known that he was too ill to travel. Why he left home becomes a riddle Natalia is compelled to unravel.
Grief struck and searching for clues to her grandfather's final state of mind, she turns to the stories he told her when she was a child. On their weeklytrips to the zoo he would read to her from a worn copy of Rudyard Kipling's The Jungle Book, which he carried with him everywhere; later, he told her stories of his own encounters over many years with "the deathless man," a vagabond who claimed to be immortal and appeared never to age. But the most extraordinary story of all is the one her grandfather never told her, the one Natalia must discover for herself. One winter during the Second World War, his childhood village was snowbound, cut off even from the encroaching German invaders but haunted by another, fierce presence: a tiger who comes ever closer under cover of darkness. "These stories," Natalia comes to understand, "run like secret rivers through all the other stories" of her grandfather's life. And it is ultimately within these rich, luminous narratives that she will find the answer she is looking for.
Excerpt
1
The Coast
the forty days of the soul begin on the morning after death. That first night, before its forty days begin, the soul lies still against sweated-on pillows and watches the living fold the hands and close the eyes, choke the room with smoke and silence to keep the new soul from the doors and the windows and the cracks in the floor so that it does not run out of the house like a river. The living know that, at daybreak, the soul will leave them and make its way to the places of its past—the schools and dormitories of its youth, army barracks and tenements, houses razed to the ground and rebuilt, places that recall love and guilt, difficulties and unbridled happiness, optimism and ecstasy, memories of grace meaningless to anyone else—and sometimes this journey will carry it so far for so long that it will forget to come back. For this reason, the living bring their own rituals to a standstill: to welcome the newly loosed spirit, the living will not clean, will not wash or tidy, will not remove the soul's belongings for forty days, hoping that sentiment and longing will bring it home again, encourage it to return with a message, with a sign, or with forgiveness.
If it is properly enticed, the soul will return as the days go by, to rummage through drawers, peer inside cupboards, seek the tactile comfort of its living identity by reassessing the dish rack and the doorbell and the telephone, reminding itself of functionality, all the time touching things that produce sound and make its presence known to the inhabitants of the house.
Speaking quietly into the phone, my grandma reminded me of this after she told me of my grandfather's death. For her, the forty days were fact and common sense, knowledge left over from burying two parents and an older sister, assorted cousins and strangers from her hometown, a formula she had recited to comfort my grandfather whenever he lost a patient in whom he was particularly invested—a superstition, according to him, but something in which he had indulged her with less and less protest as old age had hardened her beliefs.
My grandma was shocked, angry because we had been robbed of my grandfather's forty days, reduced now to thirty-seven or thirty-eight by the circumstances of his death. He had died alone, on a trip away from home; she hadn't known that he was already dead when she ironed his clothes the day before, or washed the dishes that morning, and she couldn't account for the spiritual consequences of her ignorance. He had died in a clinic in an obscure town called Zdrevkov on the other side of the border; no one my grandma had spoken to knew where Zdrevkov was, and when she asked me, I told her the truth: I had no idea what he had been doing there.
"You're lying," she said.
"Bako, I'm not."
"He told us he was on his way to meet you."
"That can't be right," I said.
He had lied to her, I realized, and lied to me. He had taken advantage of my own cross-country trip to slip away—a week ago, she was saying, by bus, right after I had set out myself—and had gone off for some reason unknown to either of us. It had taken the Zdrevkov clinic staff three whole days to track my grandma down after he died, to tell her and my mother that he was dead, arrange to send his body. It had arrived at the City morgue that morning, but by then, I was already four hundred miles from home, standing in the public bathroom at the last service station before the border, the pay phone against my ear, my pant legs rolled up, sandals in hand, bare feet slipping on the green tiles under the broken sink.
Somebody had fastened a bent hose onto the faucet, and it hung, nozzle down, from the boiler pipes, coughing thin streams of water onto the floor. It must have been going for hours: water was everywhere, flooding the tile grooves and pooling around the rims of the squat toilets, dripping over the doorstep and into the dried-up garden behind the shack. None of this fazed the bathroom attendant, a middle-aged woman with an orange scarf tied around her hair, whom I had found dozing in a corner chair and dismissed from the room with a handful of bills, afraid of what those seven missed beeper pages from my grandma meant before I even picked up the receiver.
I was furious with her for not having told me that my grandfather had left home. He had told her and my mother that he was worried about my goodwill mission, about the inoculations at the Brejevina orphanage, and that he was coming down to help. But I couldn't berate my grandma without giving myself away, because she would have told me if she had known about his illness, which my grandfather and I had hidden from her. So I let her talk, and said nothing about how I had been with him at the Military Academy of Medicine three months before when he had found out, or how the oncologist, a lifelong colleague of my grandfather's, had shown him the scans and my grandfather had put his hat down on his knee and said, "Fuck. You go looking for a gnat and you find a donkey."
I put two more coins into the slot, and the phone whirred. Sparrows were diving from the brick ledges of the bathroom walls, dropping into the puddles at my feet, shivering water over their backs. The sun outside had baked the early afternoon into stillness, and the hot, wet air stood in the room with me, shining in the doorway that led out to the road, where the cars at border control were packed in a tight line along the glazed tarmac. I could see our car, left side dented from a recent run-in with a tractor, and Zóra sitting in the driver's seat, door propped open, one long leg dragging along the ground, glances darting back toward the bathroom more and more often as she drew closer to the customs booth.
"They called last night," my grandma was saying, her voice louder. "And I thought, they've made a mistake. I didn't want to call you until we were sure, to worry you in case it wasn't him. But your mother went down to the morgue this morning." She was quiet, and then: "I don't understand, I don't understand any of it."
"I don't either, Bako," I said.
"He was going to meet you."
"I didn't know about it."
Then the tone of her voice changed. She was suspicious, my grandma, of why I wasn't crying, why I wasn't hysterical. For the first ten minutes of our conversation, she had probably allowed herself to believe that my calm was the result of my being in a foreign hospital, on assignment, surrounded, perhaps, by colleagues. She would have challenged me a lot sooner if she had known that I was hiding in the border-stop bathroom so that Zóra wouldn't overhear.
She said, "Haven't you got anything to say?"
"I just don't know, Bako. Why would he lie about coming to see me?"
"You haven't asked if it was an accident," she said. "Why haven't you asked that? Why haven't you asked how he died?"
"I didn't even know he had left home," I said. "I didn't know any of this was going on."
"You're not crying," she said.
"Neither are you."
"Your mother is heartbroken," she said to me. "He must have known. They said he was very ill—so he must have known, he must have told someone. Was it you?"
"If he had known, he wouldn't have gone anywhere," I said, with what I hoped was conviction. "He would have known better." There were white towels stacked neatly on a metal shelf above the mirror, and I wiped my face and neck with one, and then another, and the skin of my face and neck left gray smears on towel after towel until I had used up five. There was no laundry basket to put them in, so I left them in the sink. "Where is this place where they found him?" I said. "How far did he go?"
"I don't know," she said. "They didn't tell us. Somewhere on the other side."
"Maybe it was a specialty clinic," I said.
"He was on his way to see you."
"Did he leave a letter?"
He hadn't. My mother and grandma, I realized, had both probably seen his departure as part of his unwillingness to retire, like his relationship with a new housebound patient outside the City—a patient we had made up as a cover for his visits to the oncologist friend from the weekly doctors' luncheon, a man who gave injections of some formulas that were supposed to help with the pain. Colorful formulas, my grandfather said when he came home, as if he knew the whole time that the formulas were just water laced with food coloring, as if it didn't matter anymore. He had, at first, more or less retained his healthy cast, which made hiding his illness easier; but after seeing him come out of these sessions just once, I had threatened to tell my mother, and he said: "Don't you dare." And that was that.
My grandma was asking me: "Are you already in Brejevina?"
"We're at the border," I said. "We just came over on the ferry."
Outside, the line of cars was beginning to move again. I saw Zóra put her cigarette out on the ground, pull her leg back in and slam the door. A flurry of people who had assembled on the gravel shoulder to stretch and smoke, to check their tires and fill water bottles at the fountain, to look impatiently down the line, or dispose of pastries and sandwiches they had been attempting to smuggle, or urinate against the side of the bathroom, scrambled to get back to their vehicles.
My grandma was silent for a few moments. I could hear the line clicking, and then she ...
Copyright © 2011 by Tea Obreht
Reviews
Images
No alternate cover images currently exist for this novel. Be the first to submit one!