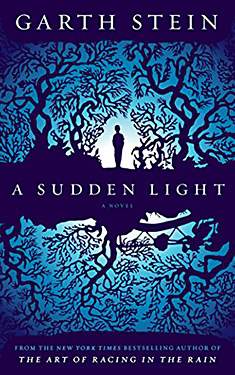 A Sudden Light: A Novel
Author:
Garth Stein

Publisher:
Simon & Schuster, 2014

Series:

This book does not appear to be part of a series. If this is incorrect, and you know the name of the series to which it belongs, please let us know.

Submit Series Details

Book Type:
Novel
Genre:
Fantasy
Sub-Genre Tags:
Awards:
Lists:
Links:
Avg Member Rating:

(0 reads / 0 ratings)
Synopsis
Twenty-three years after the fateful summer of 1990, Trevor Riddell recalls the events surrounding his fourteenth birthday, when he gets his first glimpse of the infamous Riddell House. Built from the spoils of a massive timber fortune, the legendary family mansion is constructed of giant whole trees and is set on a huge estate overlooking Seattle's Puget Sound. Trevor's bankrupt parents have separated, and his father, Jones Riddell, has brought Trevor to Riddell House with a goal: to join forces with Aunt Serena, dispatch the ailing and elderly Grandpa Samuel to a nursing home, sell off the house and property for development, and divide up the profits.
But as young Trevor explores the house's hidden stairways and forgotten rooms, he discovers secrets that convince him that the family plan may be at odds with the land's true destiny. Only Trevor's willingness to face the dark past of his forefathers will reveal the key to his family's future.
Spellbinding and atmospheric, A Sudden Light is rich with vivid characters, poetic scenes of natural beauty, and powerful moments of spiritual transcendence. "Garth Stein is resourceful, cleverly piecing together the family history with dreams, overheard conversations, and reminiscences... a tale well told," (The Seattle Times)--a triumphant work of a master storyteller at the height of his power.
Excerpt
- prologue -
THE CURSE
Growing up in rural Connecticut, I had been told the name Riddell meant something to people in the Northwest. My paternal great-great-grandfather was someone of significance, my mother explained to me. Elijah Riddell had accumulated a tremendous fortune in the timber industry, a fortune that was later lost by those who succeeded him. My forefathers had literally changed the face of America--with axes and two-man saws and diesel donkeys to buck the fallen, with mills to pulp the corpses and scatter the ashes, they carved out a place in history for us all. And that place, I was told, was cursed.
My mother, who was born of English peasant stock on the peninsula of Cornwall, made something of herself by following her passion for the written word, eventually writing the dissertation that would earn her a Ph.D. in comparative literature from Harvard University and becoming the first in her family to receive an advanced degree. Though she never did anything of note with her brilliance, she did carry it around with her like a seed bag, sprinkling handfuls of it on what she deemed fertile soil. She spent much time quoting literature to me when I was young, thus sparking my own avid reading habits. So the theme of the Ancient Mariner and his story, as told by the poet and philosopher Samuel Taylor Coleridge--and how the Mariner's story was emblematic of my family's history--was something I had heard often before my fourteenth birthday.
The curse. When one destroys something of beauty and nature--as did the Mariner, who shot the kindly albatross that led his ship out of the perilous Antarctic seas--one will be punished. Cursed. My mother told me this; my father nodded when she did. Punishment will rain down upon the offender and the family of the offender, I was told, until the debt is settled.
The debt owed by my family has been paid, and then some. My mother believes our family's story was settled with that debt--she has always maintained an unyielding faith in the cathartic power of denouement--which is why she has chosen to go for a walk this morning, rather than stay with us to hear me tell our story again. But I disagree with my mother: there is no tidy end to any story, as much as we might hope. Stories continue in all directions to include even the retelling of the stories themselves, as legend is informed by interpretation, and interpretation is informed by time. And so I tell my story to you, as the Mariner told his: he, standing outside the wedding party, snatching at a passing wrist, paralyzing his victim with his gaze; I, standing with my family at the edge of this immortal forest.
I tell this story because telling this story is what I must do.
Twenty-some years ago, before technology changed the world and terrorism struck fear into the hearts of all citizens. Before boys in trench coats stalked and murdered classrooms full of innocent children in schools across this fair land. Before the oceans were thick with oil slicks and the government ceased to govern and Bill Gates set out to love the world to death and hurricanes became powerful enough to stagger entire cities and toxic children were drugged into oblivion to drive up the profits of Big Pharma, and genetically modified foodstuffs were forced upon us without us knowing we needed to care. Before smoking marijuana at gay marriages became passé--before gay people became, eh, just like anyone else, and weed became, eh, just another source of tax revenue. This was even before another famous Bill, the one surnamed Clinton, became famous for his choice of cigars. It seems like ages ago, looking back on it. No smartphones. No On Demand. Nary an iPad in sight.
So long ago. Yes. This story begins in 1990.
On a hot July day in Seattle, a sickly pea green rental car drives from Sea-Tac airport northward on Interstate 5, through the sprawl of neighborhoods hidden by hills, tucked away behind bridges and bodies of water. Its passengers, a father and a son, don't speak to each other. The boy is nearly fourteen, and he is unhappy. Unhappy with being displaced from his childhood home and forced on an unwanted road trip. Unhappy with his mother for not being with him. Unhappy with his father for simply being. So he doesn't speak; he concentrates on Pink Floyd's The Wall, which he listens to intently through the headphones of his Walkman.
His father looks over at him frequently, nervously. He seems to crave the boy's approval, which the boy will not give. As they approach the city from the south, the boy glances up and notices the Space Needle, that ubiquitous and baffling Seattle icon. He winces at the irrelevance of the monument--who on earth would build such a thing, and what kind of citizenry would keep it?--and lowers his eyes again to his shoes, which are far more interesting to him.
He doesn't notice as they drive through the city, but drive through the city they do. They emerge on a high bridge.
"Don't you want to see this?" the father says, finally, desperately, tapping the boy's shoulder and indicating the glory of Seattle all around them.
The boy lifts his eyes and looks around. Bridges, lakes, bland buildings, radio towers, floatplanes, mountains, trees. He's seen it.
"No," he says and returns his focus to his music. The voices chant at him: Tear down the wall. Tear down the wall.
And so my story for you begins.
Copyright © 2014 by Garth Stein
Reviews
There are currently no reviews for this novel. Be the first to submit one! You must be logged in to submit a review in the BookTrackr section above.
Images
No alternate cover images currently exist for this novel.