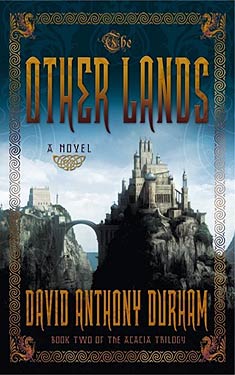 Synopsis
David Anthony Durham's gripping Acacia Trilogy continues with an epic novel where loyalties are tested, new worlds are discovered, and battle lines are being drawn.
A few years have passed since Queen Corinn has usurped control of the Known World--and she now rules with an iron fist. With plans to expand her empire, she sends her brother, Dariel, on an exploratory mission across the sea to The Other Lands. There, he discovers an alliance of tribes that have no interest in being ruled by Queen Corinn and the Akarans. In fact, Dariel's arrival ignites a firestorm that once more exposes The Known World to a massive invasion, one unlike anything they have yet faced...
Excerpt
Chapter One
When the Balbara lookout shouted the alarm, Princess Mena Akaran was up from her campstool in an instant. She broke from the circle where she had been sitting with her officers and climbed the ridge at a run. She drew close to the sharp-eyed young man, sighting down his slim, brown arm and out from his pointing finger across the arid expanse that was central Talay. It took her a moment to see what he did. Even then, it was neither the creature itself she saw nor the party who hunted it. They were too far away. What marked their progress were the billows of smoke from the torches the runners carried--that and a yellow smudge at the rim of the world that must have been dust kicked up by their feet. They seemed to be as far off as the horizon, but the princess knew they would close that distance quickly.
She half slid down the sandy slope and regrouped with her officers. One captain, Melio Sharratt, she assigned to the farthest southern beacon; to the other, Kelis of Umae, went the northern beacon. They already knew what to do, she told them. It was only a matter of seeing it accomplished, timing it perfectly, and having luck on their side. She left it to them to get the others in position and remind them of their instructions, but before she dismissed them she urged them both to act with caution.
"Do you hear me?" she asked, leaning close to the small group. She took Melio by the wrist to remind him of this but did not look in his face. She knew his grin would hold constant, dismissive of the danger moving across the plain toward them. He may have become the head of the Elite, but the role had done nothing to alter him. His longish hair would be cast casually across an eye, often swept aside only to fall in place again. They had wed five years earlier. She had never hidden her love of him from others, but neither did she let it distract her at moments like this. She spoke as if her words were meant for all the hunting party, as, in truth, they were.
"I want nobody dead. Only the foul thing dies today," she said.
"Those words coming from you?" Melio asked. "Will you abide by them yourself, or will this be like last time, with that--"
Mena spoke as if she had not heard him. "Nobody else. That order falls on each of you personally. We've lost too many already."
Her eyes settled on Kelis. The Talayan's gaze was as calm as ever, his skin dark and smooth, his eyes slow moving. It was a face she had grown to deeply care for. In a strange way this Talayan was a living reminder of her eldest brother. Aliver had grown to manhood with him as his companion. Kelis had known her brother during the years that she had been separated from him. Even now, after all the evenings they had spent talking about what her brother had been like then, she still did not feel they had conversed enough. She hoped they would have many evenings more.
She made a point of not meeting Melio's eyes as he moved away. If they were together again, whole, at the end of the day, she would show him just how much she felt for him with all her body. That was the way it had been with them lately: distant as they faced danger, enraptured with each other in the short reprieves afterward.
The next half hour was a whirl of preparations. Moving among soldiers, shouting instructions, checking everything personally, Mena was as slim and leanly muscled and sun burnished as she had been during the war with Hanish Mein. She still wore the sword with which she had swum ashore on Vumu as a girl, but she was far from being that girl. Only an unobservant eye could fail to see that her lithe form contained within it a coiled energy hardened by loss, by war, and by an inner struggle with the deadly gifts that seemed to define her. There was love within her, too, but she kept that on a short tether. It was a softness that was difficult to spot within the Maeben fierceness she so often had to rely upon. Had she the time and the quiet, she would have chosen to settle into the kinder aspects of her nature and come to know them again, but the peace that followed the end of the war with Hanish Mein had hardly allowed it. Maybe when this work was done she could lay down her sword and rest.
She caught her breath only when all the preparations that could be made had been. She climbed back upon the ridge and stood where the lookout had. The chapped skin of Talay spread out before her, miles upon miles baking under a flawless blue sky. She watched the creature take on shape and proportion as it closed the miles, the smoke of its pursuers driving it toward the trap Mena had laid for it.
This was not the first of these foulthings she had faced. Indeed, she had been at the work of hunting them for almost four years now. She had seen eight of them killed, but she'd also lost hundreds of her soldiers in the process. And each time was different. Each creature was its own atrocity and had to be dealt with accordingly. Each trap was an elaborate construction that, if it failed, needed to be abandoned to prepare for some other opportunity.
It began not long after the Santoth had unleashed their twisted magic upon the Mein army. Nobody could say for sure just how the foulthings came to be, but it had something to do with ribbons of the Santoth's song unleashed on the natural creatures of the world, spells that drifted until they lighted upon some living creature. In most cases, the animals were so corrupted by the touch of the Giver's tongue that they died: lamed, malformed, burned or battered or torn one part from another. Many got caught in rips in the fabric of the world that passed through them and left them melded with other objects, joined with trees or stuck fast in rocks or half submerged in the earth. Their carcasses dotted the damaged ground, a feast for vultures.
At first they had believed any creatures touched by the sorcery died because of it. And because many human beings were so touched, many were led mercifully out of this life and on to the next. Nobody wished to see their loved ones live with that sort of corruption on them. The people of Talay, in particular, had always told tales of the lasting damage left by the Santoth during their first angry march into banishment. They took it upon themselves to ensure that their people did not spread any contagion among them.
Most of the burden, however, fell upon the Mein, as they had received the brunt of the sorcerers' fury. As the vanquished enemy, they had little say in their fate. Those who showed signs of contamination were killed, culled just as one might cull sick animals from a herd of livestock. Queen Corinn was firm in her orders on this; and from the first days of her reign few chose to disobey her--not outright, at least.
Dariel might have asserted his rights as a male heir, but he did not. A year after Corinn released their father's ashes and ascended to the throne of Acacia, she gave birth to the nation's heir. Soon after, they began to receive troubling reports. At first Corinn dismissed them as the nightmares of a frightened, fatigued populace. The Antoks had stirred all sorts of fears in people's minds, she explained, and the strange appearance of the Santoth had woken old superstitions. Magic had been unleased upon the world for the first time in twenty-two generations. Of course, the people again trembled at night and concocted stories of beasts that hunted them. Time would heal, Corinn said. The earth would come to rest again and the natural order would sew creation back into its tight weave.
But the reports did not fade as time passed. The sightings, which were sporadic for the first few years, grew more frequent, the witnesses more reliable. What they said differed in the particulars, but all their descriptions had made Mena's skin crawl with growing trepidation. In the hills near Halaly a herd of goatlike creatures cut a swath of devastation. Goatlike, the people said, but in truth only their heads resembled gargantuan likenesses of those animals. Their bodies were squat with numerous, malformed limbs jointed at random places, more like a spider's legs than those of any mammal. They were each as large as an elephant and insatiable. Fortunately, they ate only vegetation and were near as easy to slaughter as domesticated ruminants. Other creatures had different tastes and were not so easy to kill.
The Bethuni spread stories of many-footed serpents that could both slither and run. At first the people thought them amusing, until they began to grow at a rate that frightened them into action. There was a lion with a row of blue eyes along its back, doglike creatures large enough to send laryx scurrying in fright, vultures so mutated by the bounty they had consumed that many of them could no longer fly. Instead they waddled, following their great beaked noses like bands of the plagued.
The people came to understand that these beings had been warped rather than killed by the Santoth. These they called the foulthings. Once Corinn acknowledged them, she ordered them hunted and destroyed. She charged Mena with this mission, giving her a small army and presenting the task as yet another way that her younger sister might carve her name into the pantheon of the Akaran greats.
Mena suspected that Corinn intentionally wished her to be kept busy and kept away from other affairs of the empire. But she could not put the unease she felt into enough order to decide what to do about it. Instead, Mena had set to the hunt. The beasts were real, after all, and who better than Maeben on earth to face them? She and her army ranged far and wide across Talay, from its shores, across its grasslands and deserts, into its hills and mountain reaches, through marshland and even to the great river that marked the boundary with the far south. That dry watercourse she did not cross. She had no desire to awaken the Santoth again. Nobody wished for that.
She faced the creatures one at a time as much as possible. She fought with the help of those in whose territory the hunt took her. It was with Bethuni huntsmen that she...
Copyright © 2009 by David Anthony Durham
Reviews
There are currently no reviews for this novel. Be the first to submit one! You must be logged in to submit a review in the BookTrackr section above.
Images
No alternate cover images currently exist for this novel. Be the first to submit one!