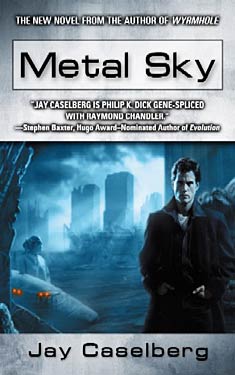 Synopsis
Two years after the events of Wyrmhole, Jack is a professional P.I. on a case to track down a missing artifact-a tablet made of a metal that cannot be identified. But when the woman he's working for disappears and his lead suspect turns up dead, Jack's investigation will lead him into the clutches of a shadowy political organization that knows the secret of the tablet.
Excerpt
One
Jack Stein swung his feet off the desk and leaned forward to run his hands over the flat surface. It was a good height, a good build. It had taken overnight to remove the old one and grow the new one in its place, but he was happy with the results. The Yorkstone programs weren't quite as sophisticated as those he'd known back in the Locality, but then Yorkstone wasn't as big.
He sighed and turned his chair to look out the window. Windows were good. That was one thing he didn't miss about the Locality — blank featureless walls. Of course, back in the Locality, Scenics made up for the lack of windows, but they didn't have Scenics in Yorkstone. Semi-clear ceiling panels looked out onto sky, real sky, instead of some designer simulation meant to distract the populace from what was going on inside and help them pretend that they lived in a real environment. Yorkstone took a far more subtle approach to things. He could almost believe they lived in a normal, old-style city. It had been almost two years since he and Billie had left the Locality, but there were still things about the place that he missed, despite the many shortcomings. There was just something about daily normality that didn't sit well with Jack.
One of the traps of the programmable residences like the Locality, like Yorkstone, was that you could get caught up for hours growing furniture in new positions, changing the layout of a room. It was just another time sink helping him to avoid facing what was really going on here with his and Billie's existence.
"Diary," he said and the opposite wall's surface bled lines and shapes until a simulacrum of his handipad's date page sharpened in front of him. He had it set to 'week' and as he turned back to face it, the blank empty page stared back at him accusingly. "Month," he said. A couple of pissant jobs in the last few weeks and that's all he had to show. He stood and crossed back to the window, looking down across a city that at least functioned, and maybe that was the problem. Things worked in Yorkstone. It was a clean city. Clean and ordered. People had less need of the services of the likes of Jack Stein, psychic investigator. Well, he needed to do something about it soon or he and Billie would be forced into the sort of place that Jack could have put up with if he was on his own, but with her around…
He shook his head and made a low sound of displeasure in his throat. It was about time fate started throwing something his way. It had been too long since his inner senses had prodded him into anything that really meant something. His dreams were still full, but the problem was, they were full of crap. The missing relative. The lost object. He'd even had one or two pets crop up in his inner landscape. In the past, even if his dreams had been barren, he'd been able to rely in part upon his other senses, his innate sense of knowing. He didn't even feel anything in his gut, or he hadn't for some time now, and that was unusual. Jack had spent most of his life teetering on the edge of an inner chasm, or at least that's what it felt like, but even that reassuring discomfort was nowhere to be felt. If something didn't happen soon, he'd have to start thinking about a 'proper' job. He had a quick thought.
"Change the window display. Read 'Jack Stein, Investigator.'"
The word 'Psychic' bled away and 'Investigator' slipped into position beneath the curved arch of his name. Not that people could really see it from the street, but it was something. The letters cast lengthening shadows in reverse across the new, pale desk. Anybody coming into the office would get the right feeling. It was important to convey the proper image after all.
Continued...
Copyright © 2004 by Jay Caselberg
Reviews
There are currently no reviews for this novel. Be the first to submit one! You must be logged in to submit a review in the BookTrackr section above.
Images
No alternate cover images currently exist for this novel. Be the first to submit one!