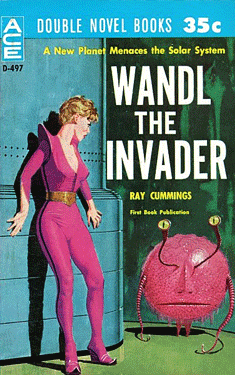 Wandl the Invader / I Speak for Earth
Synopsis
Wandl the Invader
There were nine major planets in the Solar System, and it was within their boundaries that man first set up interplanetary commerce and began trading with the ancient Martian civilization. And then they discovered a tenth planet - a maverick!
This tenth world, if it had an orbit, had a strange one, for it was heading inwards from interstellar space, heading close to the Earth-Mars spaceways, upsetting astronautic calculations and raising turmoil on the two inhabited worlds.
But even so none suspected then just how much trouble this new world would make. For it was WANDL THE INVADER and it was no barren planetoid. It was a manned world, manned by minds and monsters and travelling into our system with a purpose beyond that of astronomical accident!
Wandl the Invader is the second in the Gregg Haljan series.
I Speak for Earth
'One citizen of your planet shall go to the capital of the Federation of Worlds. He shall live there for thirty days. If your representative can survive and demonstrate his ability to exist in a civilized society with creatures whose outward appearance and manner of thinking differ from his own, you will pass the test. You will be permitted to send your starships to other planets of the galaxy.
'If he fails the test, if prejudice, fear, intolerance or stupidity trip him up, then you world will be sealed of from the stars for ever!'
This was the ultimatum from space. The task before the world then was - who shall go? What man or woman could be found to take this frightening test for the whole of humanity and be certain not to fail?
Excerpt
No excerpt currently exists for this novel. Be the first to submit one!

Submit an Excerpt
Reviews
Images
No alternate cover images currently exist for this novel. Be the first to submit one!