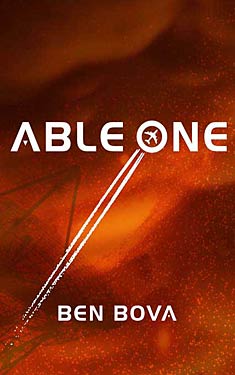 Abel One
Author:
Ben Bova

Publisher:
Tor, 2010

Series:

This book does not appear to be part of a series. If this is incorrect, and you know the name of the series to which it belongs, please let us know.

Submit Series Details

Book Type:
Novel
Genre:
Science-Fiction
Sub-Genre Tags:
Awards:
Lists:
Links:
Avg Member Rating:

(2 reads / 2 ratings)
Synopsis
When a nuclear missile launched by a rogue North Korean faction explodes in space the resulting shockwave destroys the world's satellites, throwing global communication into chaos. The United States military satellites, designed to withstand such an assault, show that two more missiles are sitting on the launch pad in North Korea, ready to be deployed. Faced with the threat of a thermonuclear attack, the United States has only one possible defense: Able One.
ABL-1, or Able One, is a modified 747 fitted with a high-powered laser able to knock out missiles in flight. But both the laser's technology and the jet's crew are untested. What was originally to be a training flight with a skeleton crew turns into a desperate race to destroy the two remaining nukes. Will Able One's experimental technology be enough to prevent World War III-especially when it becomes clear that a saboteur is onboard?
Able One is a timely thrill-ride by one of science fiction's most respected novelists.
Excerpt
FIRST STRIKE
CHATTANOOGA, TENNESSEE
Hank Barstow frowned at the blank screen of his GPS box. Rolling down Interstate 75 at nearly eighty miles per hour, he was looking forward to making a breakfast stop at the Sticky Fingers restaurant a couple of his trucker pals had told him about. Food's not all that much, they'd said, but there's this really stacked blonde waitress....
But he needed the doggone GPS to find his way through the streets of Chattanooga and get to the restaurant. Hank had been through Chattanooga plenty of times on his runs down I-75 to Tampa. But this time he had to get off the highway and find that blonde.
And the GPS was dead. Hank pounded a big fist on the gray box mounted on his cab's dashboard. Didn't do any good. The doggone screen stayed blank.
A sign whizzed by: TRUCK STOP FIVE MILES AHEAD. I'll pull in there and dig the road atlas out of the pile in back, he decided.
To Hank's surprise, the truck stop was filled with tractor-trailer rigs. Unusual for this time of the morning. Drivers were standing around their rigs, a lot of them talking into cell phones. He found a spot out on the grass, parked his rig, and killed the engine.
As he climbed down from the cab he heard a familiar voice yell, "You too, Hank?"
Turning as he stepped onto the grass, he saw one of his old buddies, Phil Camerata, heavy with belly fat, face stubbled, plodding up toward him.
"Me too what, Phil?" Hank asked.
"GPS dead?"
"Yeah? How'd you know?"
Waving at the jam-packed parking area, Camerata said, "Everybody's GPS is down. Whole GPS system is out."
"Everybody's?" Automatically, Hank fished in the pocket of his jeans for his cell phone.
Shaking his grizzled head, Camerata said, "Lotsa luck, buddy. Looks like most of the cell phones are out, too."
IN MANHATTAN THE air was filled with the bleating horns of thousands of taxicabs, trucks, cars, and buses, like a rising chorus of wailing lost souls.
The automated tollbooths in all the city's bridges and tunnels had abruptly shut down, piling cars in long lines behind their unmoving barrier arms. Even in the subway tunnels automated Metro-Card dispensers had gone dead.
Drivers leaned on their horns in maddened frustration. The streets and avenues were choked with honking, steaming vehicles whose sweating, puzzled, cursing drivers stared at the traffic lights, which had all gone blank.
Gridlock, all across Manhattan and rapidly spreading through the other boroughs. The helpless bleat of thousands of taxi, automobile, truck, and bus horns filled the air all across New York's crowded, choked streets.
GORDON HATHAWAY SWIPED his Visa card through the slot in the taxicab's bulletproof window, scribbled his signature on the strip of paper that came stuttering out of the chugging machine, then ducked out of the cab while the driver sat in sullen silence. Some sort of Asian, Hathaway thought: the driver was swathed in a white turban and had a deeply black curly beard.
Lower Broadway was a total bedlam of gridlock, cabs and trucks and city buses sitting unmoving, horns blaring insanely, drivers and radiators fuming. Do better on foot, Hathaway told himself as he headed down toward Wall Street.
Fifteen minutes later he was panting from the unusual exertion, his three-piece suit rumpled, his brand-new shirt soaked with perspiration. When he finally got to the lobby of the building where his brokerage firm was quartered, he saw a crowd of his fellow brokers milling about in dazed confusion.
"You hoofed it out here for nothing," one of his buddies told him as Hathaway tried to push through the throng to the elevators. "The office's closed."
"Closed?"
"Whole damned market's closed. All the computers are down. Nothing's going to happen today, Gordo."
Hathaway's jaw dropped open.
"The New York Stock Exchange is closed? I can't believe it!"
"Believe it," said his buddy sourly.
IN BOSTON'S CHILDREN'S Hospital the head of the surgical team gaped at the suddenly blank display screen, his blue eyes above his surgical mask going so wide you could see white all around the irises.
"What happened?" he whispered harshly.
His chief nurse shook her head. "The screen's gone out."
"I can see that!" Louder, snarling.
One of the assistant surgeons said needlessly, "The patient's open."
The baby on the surgical table was only three weeks old. She was undergoing surgery to correct an aneurysm in her aorta that threatened to kill her before she'd seen one month of life.
"Get the screen back up!" the head of surgery demanded of no one in particular, of everyone in the surgical theater.
The actual surgery was being performed remotely, over an electronic link, by a surgeon in Minneapolis who was recognized around the world as the best and most experienced man for this particular procedure. But the link had abruptly shut down in the middle of the operation.
"Get it back up!" the head of surgery shouted again.
"We're trying," said the computer technician from her console off in a corner of the surgery theater. She was almost in tears.
"The patient..." said one of the nurses.
With a growl that was almost feral, the head of surgery said, "I'll have to finish this myself, goddammit to hell."
He was a very good surgeon, but not good enough. The infant died on the table, four days short of her first month of life.
IN THE HEADQUARTERS of Travis Broadcasting Systems, in Atlanta, Herman Scott blinked unbelievingly at the wall full of monitor screens. Seven-- no, eight-- of the thirty had crapped out. Make it ten. In stunned amazement he watched as, one after another, the remaining twenty screens broke into hissing snowy static and then went dead gray.
The big electronic map that covered one entire wall of the monitoring center froze. Every last one of the pinpoint lights that showed where the satellites were in their orbits winked out.
We can't have all thirty satellites going down at once, Scott said to himself, trying to remain calm. Must be a power failure here in the building.
But the big map was still lit, and a glance at the lights and gauges of his console told him that electrical power was normal, and the backup power system was in the green too.
A couple of the other engineers were getting up from their consoles, confusion and outright fear on their faces.
"What's going on?" one of them asked.
As if I know, Scott said to himself.
"How can all thirty birds go down at once?"
Something very bad is happening here, Scott realized. Something terrible.
His console phone buzzed. Picking it up automatically, his eyes still on the dead screens, Scott heard the angry voice of the news bureau's chief:
"We're off the air! How the fuck can we be off the air in the middle of the sports report?"
IN LONDON, SIR Mallory Hyde-Grosvener was pacing up and down his office, desperately trying to get a phone connection to Singapore. He had pulled off his tweed jacket ten minutes earlier, crumpled it into a ball, and thrown it with main force against the wall where the portrait of his grandfather hung watching him with hard unblinking eyes. Through his office window he could see chaos on the floor of the market, absolute chaos. All the boards were down; where up-to-the-second market numbers should be flashing there was nothing but dead darkness. Every bloody man on the floor had a telephone jammed to his ear, red-faced and screaming.
Copyright © 2010 by Ben Bova
Reviews
There are currently no reviews for this novel. Be the first to submit one! You must be logged in to submit a review in the BookTrackr section above.
Images
No alternate cover images currently exist for this novel. Be the first to submit one!