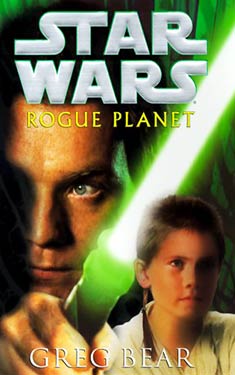 Synopsis
This is an unforgettable journey, stretching from the farthest reaches of known space to the battlefield of a young boy's heart, where a secret struggle is being waged that will decide the fate of billions.
That boy is twelve-year-old Anakin Skywalker. The Force is strong in Anakin... so strong that the Jedi Council, despite misgivings, entrusted the young Jedi master Obi-Wan Kenobi with the mission of training him to become a Jedi Knight. Obi-Wan--like his murdered master Qui-Gon-- believes Anakin may be the Chosen One, the Jedi destined to bring balance to the Force. But first Obi-Wan must help his undisciplined, idealistic apprentice, who still bears the scars of slavery, find his own balance.
Dispatched to the mysterious planet of Zonama Sekot, source of the fastest ships in the galaxy, Obi-Wan and Anakin are swept up in a swirl of deadly intrigue and betrayal. For the Trade Federation is interested in Zonama Sekot as well. Raith Sienar, a brilliant but unscrupulous weapons and ship designer, seizes the opportunity to make a killing by stealing the secret of the superfast ships.
As Sienar strikes with all the brutal power of the Trade Federation, Obi-Wan and Anakin sense a disturbance in the Force unlike any they have encountered before. It seems there are more secrets on Zonama Sekot than meet the eye.
The search for those secrets will threaten the bond between Obi-Wan and Anakin... and bring the troubled young apprentice face-to-face with his deepest fears--and his darkest destiny.
Excerpt
No excerpt currently exists for this novel. Be the first to submit one!

Submit an Excerpt
Reviews
There are currently no reviews for this novel. Be the first to submit one! You must be logged in to submit a review in the BookTrackr section above.
Images
No alternate cover images currently exist for this novel. Be the first to submit one!