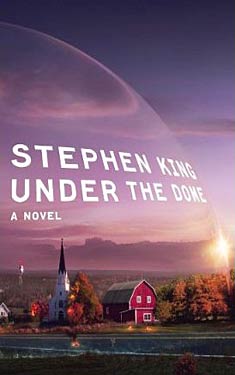 Synopsis
On an entirely normal, beautiful fall day in Chester's Mill, Maine, the town is inexplicably and suddenly sealed off from the rest of the world by an invisible force field. Planes crash into it and fall from the sky in flaming wreckage, a gardener's hand is severed as "the dome" comes down on it, people running errands in the neighboring town are divided from their families, and cars explode on impact. No one can fathom what this barrier is, where it came from, and when -- or if -- it will go away.
Dale Barbara, Iraq vet and now a short-order cook, finds himself teamed with a few intrepid citizens -- town newspaper owner Julia Shumway, a physician's assistant at the hospital, a select-woman, and three brave kids. Against them stands Big Jim Rennie, a politician who will stop at nothing -- even murder -- to hold the reins of power, and his son, who is keeping a horrible secret in a dark pantry. But their main adversary is the Dome itself. Because time isn't just short. It's running out.
Excerpt
1
From two thousand feet, where Claudette Sanders was taking a flying lesson, the town of Chester's Mill gleamed in the morning light like something freshly made and just set down. Cars trundled along Main Street, flashing up winks of sun. The steeple of the Congo Church looked sharp enough to pierce the unblemished sky. The sun raced along the surface of Prestile Stream as the Seneca V overflew it, both plane and water cutting the town on the same diagonal course.
"Chuck, I think I see two boys beside the Peace Bridge! Fishing!" Her very delight made her laugh. The flying lessons were courtesy of her husband, who was the town's First Selectman. Although of the opinion that if God had wanted man to fly, He would have given him wings, Andy was an extremely coaxable man, and eventually Claudette had gotten her way. She had enjoyed the experience from the first. But this wasn't mere enjoyment; it was exhilaration. Today was the first time she had really understood what made flying great. What made it cool.
Chuck Thompson, her instructor, touched the control yoke gently, then pointed at the instrument panel. "I'm sure," he said, "but let's keep the shiny side up, Claudie, okay?"
"Sorry, sorry."
"Not at all." He had been teaching people to do this for years, and he liked students like Claudie, the ones who were eager to learn something new. She might cost Andy Sanders some real money before long; she loved the Seneca, and had expressed a desire to have one just like it, only new. That would run somewhere in the neighborhood of a million dollars. Although not exactly spoiled, Claudie Sanders had undeniably expensive tastes which, lucky man, Andy seemed to have no trouble satisfying.
Chuck also liked days like this: unlimited visibility, no wind, perfect teaching conditions. Nevertheless, the Seneca rocked slightly as she overcorrected.
"You're losing your happy thoughts. Don't do that. Come to one-twenty. Let's go out Route 119. And drop on down to nine hundred."
She did, the Seneca's trim once more perfect. Chuck relaxed.
They passed above Jim Rennie's Used Cars, and then the town was behind them. There were fields on either side of 119, and trees burning with color. The Seneca's cruciform shadow fled up the blacktop, one dark wing briefly brushing over an ant-man with a pack on his back. The ant-man looked up and waved. Chuck waved back, although he knew the guy couldn't see him.
"Beautiful goddam day!" Claudie exclaimed. Chuck laughed.
Their lives had another forty seconds to run.
Copyright © 2009 by Stephen King
Reviews
Images
No alternate cover images currently exist for this novel.