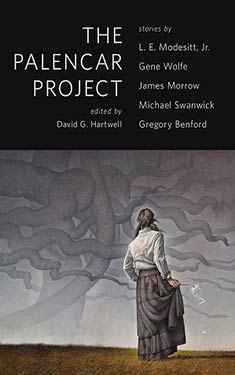 Synopsis
Introducing the Palencar Project
One day I was walking down the hall past the Tor Books art department and noticed, not for the first time, a fine painting by John Jude Palencar in the hallway. On that day, my curiosity got the better of me and I asked Irene Gallo what it was to be used for, or if it had been used and I had missed it.
She said that in fact it was unassigned, and she needed to find a book for which it would be appropriate.
And without missing a step I said, "I could commission stories based on it." You see, writers of a certain age and experience know what that means.
Long ago in the time of the pulp fiction magazines the cover artists often got paid more than the writers for their work. A good cover, after all, could really sell a lot of magazines. For the less prosperous magazines, sometimes a good cover was bought before the fiction was even written. This gave an ironic and ambiguous meaning to the phrase "the cover story" -- which was sometimes, actually fairly often, written to fit the art.
Canny editors would invite a hungry writer up to the office to see the art, and tell them they would get their name on the cover if they could write a salable story using the cover image in a short amount of time. Occasionally, an editor would invite several such hungry writers, and tell them all to write a story for that cover, and buy the first or best, and maybe one or two others. Only the first bought would get the cover credit -- the author's name in display type on the cover.
This kind of thing went on for decades, and even into the 1960s and early 1970s in the digest magazines. And for all I know may still be going on today.
And that's what gave me the idea. I could ask a bunch of really first-rate writers to write stories, knowing that each would be different, and make a kind of event of it. I asked fewer than ten writers, and five of them did it. And the rest declined only because they had too much work committed already for this past summer and fall.
Those writers and stories are:
Personally, I am delighted with the results. And I hope to do it again -- in fact, I did do it again, in The Anderson Project.
Excerpt
No excerpt currently exists for this novel. Be the first to submit one!

Submit an Excerpt
Reviews
There are currently no reviews for this novel. Be the first to submit one! You must be logged in to submit a review in the BookTrackr section above.
Images
No alternate cover images currently exist for this novel. Be the first to submit one!