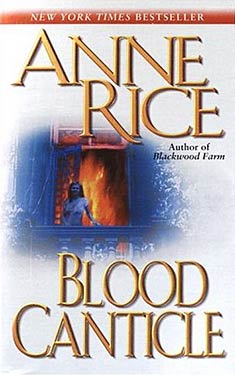 Synopsis
Fiery, fierce, and erotic, Blood Canticle marks the triumphant culmination of Anne Rice's bestselling Vampire Chronicles, as Lestat tells his astounding tale of the pleasures and tortures that lie between death's shadow and immortality. . . .
Surrounded by its brooding swampscape, Blackwood Farm is alive with the comings and goings of the bewitched and the bewitching. Among them is the ageless vampire Lestat, vainglorious enough to believe that he can become a saint, weak enough to fall impossibly in love.
Gripped by his unspeakable desire for the mortal Rowan Mayfair and taking the not so innocent, new-to-the-blood Mona Mayfair under his wing, Lestat braves the wrath of paterfamilias Julien Mayfair and ventures to a private island off the coast of Haiti. There, Saint Lestat will get his chance to slay his dragon. For Mona and the Mayfairs share an explosive, secret blood bond to another deathless species: a five-thousand-year-old race of Taltos, strangers held in the throes of evil itself.
Excerpt
1
I want to be a saint. I want to save souls by the millions. I want to do good far and wide. I want to fight evil! I want my life-sized statue in every church. I'm talking six feet tall, blond hair, blue eyes --.
Wait a second.
Do you know who I am?
I'm thinking maybe you're a new reader and you've never heard of me.
Well, if that's the case, allow me to introduce myself, which I absolutely crave doing at the beginning of every one of my books.
I'm the Vampire Lestat, the most potent and lovable vampire ever created, a supernatural knockout, two hundred years old but fixed forever in the form of a twenty-year-old male with features and figure you'd die for -- and just might. I'm endlessly resourceful, and undeniably charming. Death, disease, time, gravity, they mean nothing to me.
Only two things are my enemy: daylight, because it renders me completely lifeless and vulnerable to the burning rays of the sun, and conscience. In other words, I'm a condemned inhabitant of eternal night and an eternally tormented blood seeker.
Doesn't that make me sound irresistible?
And before I continue with my fantasy let me assure you:
I know damned well how to be a full-fledged, post-Renaissance, post-nineteenth century, post-modern, post-popular writer. I don't deconstruct nothin'. That is, you're going to get a full-dress story here -- with a beginning, middle and end. I'm talking plot, characters, suspense, the works.
I'm going to take care of you. So rest easy and read on. You won't be sorry. You think I don't want new readers? My name is thirst, baby. I must have you!
However, since we are taking this little break from my preoccupation with being a saint, let me say a few words to my dedicated following. You new guys follow along. It certainly won't be difficult. Why would I do something that you find difficult? That would be self-defeating, right?
Now, to those of you who worship me. You know, the millions.
You say you want to hear from me. You leave yellow roses at my gate in New Orleans, with handwritten notes: "Lestat, speak to us again. Give us a new book. Lestat, we love the Vampire Chronicles. Lestat, why have we not heard from you? Lestat, please come back."
But I ask you, my beloved followers (don't all stumble over yourselves now to answer), what the Hell happened when I gave you Memnoch the Devil? Hmmm? That was the last of the Vampire Chronicles written by me in my own words.
Oh, you bought the book, I'm not complaining about that, my beloved readers. Point of fact, Memnoch has outsold the other Vam-pire Chronicles completely; how's that for a vulgar detail? But did you embrace it? Did you understand it? Did you read it twice? Did you believe it?
I'd been to the Court of Almighty God and to the howling depths of Perdition, boys and girls, and I trusted you with my confessions, down to the last quiver of confusion and misery, prevailing on you to understand for me why I'd fled this terrifying opportunity to really become a saint, and what did you do? You complained!
"Where was Lestat, the Vampire?" That's what you wanted to know. Where was Lestat in his snappy black frock coat, flashing his tiny fang teeth as he smiles, striding in English boots through the glossy underworld of everybody's sinister and stylish city packed with writhing human victims, the majority of whom deserve the vampiric kiss? That's what you talked about!
Where was Lestat the insatiable blood thief and soul smasher, Lestat the vengeful, Lestat the sly, Lestat the . . . well, actually . . . Lestat, the Magnificent.
Yeah, I like that: Lestat, the Magnificent. That sounds like a good name to me for this book. And I am, when you get right down to it, magnificent. I mean, somebody has to say it. But let's go back to your song and dance over Memnoch.
We don't want this shattered remnant of a shaman! you said. We want our hero. Where's his classic Harley? Let him kick start it and roar through the French Quarter streets and alleys. Let him sing in the wind to the music pumping through his tiny earphones, purple shades down, blond hair blowing free.
Well, cool, yeah, I like that image. Sure. I still have the motorcycle. And yeah, I adore frock coats, I have them made; you're not going to get any arguments from me on that. And the boots, always. Want to know what I'm wearing now?
I'm not going to tell you!
Well, not until further on.
But think it over, what I'm trying to say.
I give you this metaphysical vision of Creation and Eternity here, the whole history (more or less) of Christianity, and meditations galore on the Cosmos Big Time -- and what thanks do I get? "What kind of a novel is this?" you asked. "We didn't tell you to go to Heaven and Hell! We want you to be the fancy fiend!"
Mon Dieu! You make me miserable! You really do, I want you to know that. Much as I love you, much as I need you, much as I can't exist without you, you make me miserable!
Go ahead, throw this book away. Spit on me. Revile me. I dare you. Cast me out of your intellectual orbit. Throw me out of your backpack. Pitch me in the airport trash bin. Leave me on a bench in Central Park!
What do I care?
No. I don't want you to do all that. Don't do that.
DON't DO IT!
I want you to read every page I write. I want my prose to envelop you. I'd drink your blood if I could and hook you into every memory inside me, every heartbreak, frame of reference, temporary triumph, petty defeat, mystic moment of surrender. And all right, already, I'll dress for the occasion. Do I ever not dress for the occasion? Does anybody look better in rags than me?
Sigh.
I hate my vocabulary!
Why is it that no matter how much I read, I end up sounding like an international gutter punk?
Of course one good reason for that is my obsession with producing a report to the mortal world that can be read by just about anyone. I want my books in trailer parks and university libraries. You know what I mean - I'm not, for all my cultural and artistic hunger, an elitist. Have you not guessed?
Sigh again.
I'm too desperate! A psyche permanently set on overdrive, that's the fate of a thinking vampire. I should be out murdering a bad guy, lapping his blood as if he was a Popsicle. Instead I'm writing a book.
That's why no amount of wealth and power can silence me for very long. Desperation is the source of the fount. What if all this is meaningless? What if high-gloss French furniture with ormolu and inlaid leather really doesn't matter in the grand scheme of things? You can shudder with desperation in the rooms of a palace as well as in a crash pad. Not to mention a coffin! But forget the coffin, baby. I'm not what you'd call a coffin vampire anymore. That's nonsense. Not that I didn't like them when I slept in them, however. In a way, there's nothing like it -- but what was I saying:
Ah, yeah, we're going to move on, but --.
Please, before we proceed, let me whine about what was done to my mind by my confrontation with Memnoch.
Now, pay attention, all of you, new readers and old:
I was attacked by the divine and sacramental! People talk about the gift of faith, well, I'm telling you it was more like a car crash! It did sheer violence to my psyche. Being a full-fledged vampire is a tough job once you've seen the streets of Heaven and Hell. And you guys should give me some metaphysical space.
Now and then I get these little spells: I DON't WANT TO BE EVIL ANYMORE!
Don't all respond at once: "We want you to be the bad guy, you promised!"
Gotcha. But you must understand what I suffer. It's only fair.
And I'm so good at being bad, of course, the old slogan. If I haven't put that on a T-shirt, I'm going to. Actually, I really don't want to write anything that can't be put on a T-shirt. Actually, I'd like to write only on T-shirts. Actually, I'd like to write whole novels on T-shirts. So you guys could say, "I'm wearing chapter eight of Lestat's new book, that's my favorite; oh, I see, you're wearing chapter six --."
From time to time I do wear -- Oh, stop it!
IS THERE NO WAY OUT OF THIS?
You're always whispering in my ear, aren't you?
I'm shuffling along Pirates' Alley, a bum covered with morally imperative dust, and you slip up beside me and say: "Lestat, wake up," and I pivot, slam bang! like Superman dodging into the all-American phone booth, and voilà! There I stand, full-dress apparitional, in velvet once again, and I've got you by the throat. We're in the vestibule of the Cathedral (where did you think I'd drag you? Don't you want to die on consecrated ground?), and you're begging for it all the way; oops! went too far, meant for this to be the Little Drink, don't say I didn't warn you. Come to think of it. Did I warn you?
All right, okay, yeah, forget about it, so what, stop the hand wringing, sure sure, knock it off, cool it, shove it, eh?
I surrender. Of course we're going to revel in pure wickedness here!
And who am I to deny my vocation as a Roman Catholic storyteller par excellence? I mean, the Vampire Chronicles are MY invention, you know, and I am only NOT a monster when I'm addressing you, I mean, that's why I write this, because I need you, I can't breathe without you. I'm helpless without you --.
-- And I am back, sigh, shudder, cackle, tap dance, and I'm almost ready to pick up the conventional frame of this book and fix its four sides with the infallible super glue of sure-fire storytelling. It's going to all add up, I swear to you on the ghost of my dead father, there's technically, in my world, no such thing as a digression! All roads lead to me.
Quiet.
A beat.
But before we cut to Present Time, let me have my little fantasy. I need it. I am not all flash and dash, boys and girls, don't you see? I can't help myself.
Besides, if you can't really bear to read this, then cut to Chapter Two right now. Go on, get!
And for those of you who really love me, who want to understand every nuance of the tale that lies ahead, I hereby invite you to go with me. Please read on:
I want to be a saint. I want to save souls by the millions. I want to do good everywhere. I want to have my life-sized plaster statue in every church in the world. Me, six feet tall with glass blue eyes, in long purple velvet robes, looking down with gently parted hands on the faithful who pray as they touch my foot.
"Lestat, cure my cancer, find my glasses, help my son get off drugs, make my husband love me."
In Mexico City, the young men come to the seminary doors clutching small statues of me in their hands, while mothers weep before me in the Cathedral: "Lestat, save my little one. Lestat, take away the pain. Lestat, I can walk! Look, the statue is moving, I see tears!"
Drug dealers lay down their guns before me in Bogotá, Colombia. Murderers fall to their knees whispering my name.
In Moscow the patriarch bows before my image with a crippled boy in his arms, and the boy is visibly healed. Thousands return to the Church in France due to my intercession, people whispering as they stand before me, "Lestat, I've made up with my thieving sister. Lestat, I renounced my evil mistress. Lestat, I have exposed the crooked bank, this is the first time I've been to Mass in years. Lestat, I am going into the convent and nothing can stop me."
In Naples, as Mt. Vesuvius erupts, my statue is carried in procession to halt the lava before it destroys the seashore towns. In Kansas City, thousands of students file past my image pledging to have safe sex or none at all. I am invoked at Mass for special intercession throughout Europe and America.
In New York, a gang of scientists announces to the whole world that, thanks to my specific intercession they have managed to make an odorless, tasteless, harmless drug which creates the total high of crack, cocaine and heroin combined, and which is dirt cheap, totally available and completely legal! The drug trade is forever destroyed!
Senators and congressmen sob and embrace when they hear the news. My statue is immediately put into the National Cathedral.
Hymns are written to me everywhere. I am the subject of pious poetry. Copies of my saintly biography (a dozen pages) are vividly illustrated and printed by the billions. People crowd into St. Patrick's Cathedral in New York to leave their handwritten petitions in a basket before my image.
Copyright © 2003 by Anne Rice
Reviews
Images
No alternate cover images currently exist for this novel.