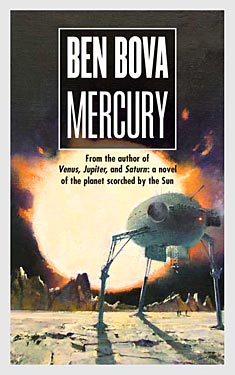 Synopsis
The planet closest to our Sun, Mercury is a rocky, barren, heat-scorched world. But there are those who hope to find wealth in its desolation.
Saito Yamagata thinks Mercury's position makes it an ideal place to generate power to propel starships into deep space. Astrobiologist Victor Molina thinks the water at Mercury's poles may harbor evidence of life. Bishop Elliot Danvers has been sent by the Earth-based "New Morality" to keep close tabs on Molina.
But all three of these men are blissfully unaware of their shared history, and of how it connects to the collapse of Mance Bracknell's geosynchronous space elevator a generation ago. Now they're about to find out, because Mance is determined to have his revenge...
Excerpt
SURFACE RESCUE
"I'm really stuck here," Molina called, a hint of desperation in his voice. "I need you to help me. What are you doing up there?"
Alexios heard himself say, "I'm coming down. It'll take a few minutes. Hang in there."
"Well for Christ's sake don't dawdle! I'm sloshing in my own sweat inside this frigging suit."
Alexios smiled again. You're not helping yourself, Victor. You're not making it easier for me to come to your aid.
But he pushed the door of the tractor's cab open and jumped to the ground, almost hoping that he'd snap an ankle or twist a knee and be unable to save Victor's self-centered butt. Angry with himself, furious with Victor and the other two, irritated at the world in general, Alexios marched to the winch and wrapped the cable around both his gloved hands.
Slowly he began lowering himself down the steep side of the gully.
"What are you doing?" Molina demanded. "Are you coming?"
"I'll be there in a few minutes," Alexios said between gritted teeth.
I'll save your ass, Victor, he thought. I'll save your body. I won't let you die. I'll bring you back and let you destroy yourself. That's just as good as killing you. Better, even. Destroy yourself, Victor. With my help.
Copyright © 2005 by Ben Bova
Reviews
There are currently no reviews for this novel. Be the first to submit one! You must be logged in to submit a review in the BookTrackr section above.
Images
No alternate cover images currently exist for this novel. Be the first to submit one!