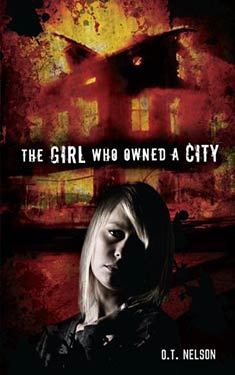 The Girl Who Owned A City
Synopsis
A deadly plague has devastated Earth, killing all adults. Lisa and her younger brother Todd are struggling to stay alive in a world where no one is safe. Other children along Grand Avenue need help as well. They band together to find food, shelter, and protection from dangerous gangs invading their neighborhood.
When Tom Logan and his army start making thrats, Lisa comes up with a plan and leads her group to a safer place. But how far is she willing to go protect what's hers?
Excerpt
Part One
Chapter One
Good! The house was empty. While Lisa waited outside in the cold to be sure, she relaxed for a moment and let herself think about the past.
At this time a few weeks ago, she had been sitting quietly in her fifth-grade social studies class. There had been no reason to believe. That her life would change. Now it was the middle of December. The whole world had changed, and life seemed terrible.
What will hapen to me? she wondered. Then she swung her leg with all her might. Her boot crashed through the wooden frame and glass of the front door.
The shattering sound rang in her ears as she reached through the broken pane for the Latch. Her movements were quick. She was becoming a good thief.
her eyes struggled to adjust to the strange dimness of the room. Lucky I didn't cut myself this time, she thought, inspecting her hand. But the hand was trembling, and that made her angry.
There is nothing to be afraid of here! They're dead, and gone for good. Lisa promised herself never to be afaid again, and to prove it, she screamed at the top of her voice, "I'm here, nobody. I'm here!"
Not even an echo replied.
Copyright © 1975 by O. T. Nelson
Reviews
Images
No alternate cover images currently exist for this novel. Be the first to submit one!