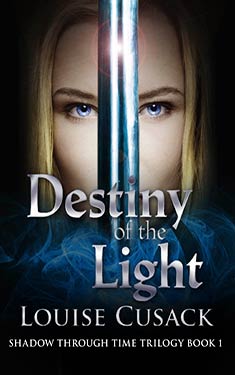 Synopsis
Ennae is a parallel world joined to our own world by the Sacred Pool, a portal that can only be opened by one with the Guardian blood running through their veins. It is through this watery gateway that Khatrene leaves her modern-day life behind forever, drawn into a quest that will take her into the depths of the unknown.
Khatrene must fulfil her destiny as The Light, the woman whose child will unite the four elemental worlds. At each turn are real and imagined enemies who will do everything in their power to prevent her from fulfilling the prophecy, including the ethereal and erotic shadow woman, the enigmatic tattooed man, even her beloved brother Mihale.
Talis, her appointed Guardian, must help her through the dangerous terrain of Ennae, sacrificing everything to ensure her safety in a land where magic prevails and nothing is as it seems.
From an exciting new voice in Australian fantasy fiction comes the first book in the Shadow Through Time trilogy. Beautifully crafted and written, Destiny of the Light combines intrigue, magic and horror to create a reality that is out of this world.
Excerpt
PROLOGUE
The mists of Rue Marsh steal across bloodied ground, deadening the echo of a sword's dying clash. All becomes still.
Time passes.
Then footsteps come fast. A warrior enters the clearing and runs from one fallen comrade to another until a despairing cry is torn from him. On his knees, head bowed in grief, he recites ancient words of mourning over the corpse of his father.
Others come: a dark-skinned man with a tattoo on the right side of his face and a party of warriors who guard in their midst the remnants of the royal family of Ennae. First comes the newly widowed Queen, grief on her shoulders like a thick cloak. Then follow her White Twins, girl and boy barely ten years old, their pale snow-bodies matching their mother, their castle clothes muddied from their journey.
While the others stand silent, the girl releases her brother's hand to kneel beside the young warrior who is also her Champion. One small hand reaches out to clasp his, while the other touches his father's face with tender fingers, closing the sightless eyes. Her sweet voice, husky from tears, rises in a song of passing. Distanced by rank but joined in grief, they share tears for the fathers they and others have lost, cursing silently the traitor who caused the deaths.
Soon the Champion, whose Guardian blood enables him to open the way between the worlds, will be attacked and to save his life, the young Princess will stab a Raider, over and over, until he lies dead.
Her frenzy stilled, she will find herself horrified at the blood on her hands. She will beg her Champion to use his powers to remove the act from her mind and not leave it as the final memory of her homeworld. The Champion will do her bidding, and palm to her forehead, call on his Guardian power to transfer the thought from her mind to his own. Yet in the transaction her panic will rise and she will wrap the sum of her memories, hoard and treasure, to his, losing all as she steps into the Sacred Pool and crosses over to Magoria.
None will know of the mishap, and the Champion, his mind now the home of her memories, will have no choice but to close the Sacred Pool behind them and set himself to wait for the time when he may gift her memories back to her.
All this will befall them, but now as they kneel beside the Champion's fallen father they know only their grief. The time comes when the Princess must take her place with her family and receive with them a last blessing from the tattooed man. But before her Champion opens the way for her to Magoria, the young Princess defies her station to offer him comfort, the touch of her lips to his cheek.
Surprise clouds her Champion's sad eyes and those of all who see, but in the simple tenderness of the act a solid bond is formed, and though the tattooed man leads her to her destiny, a portion ever remains.
CHAPTER ONE
That psychiatrist was right. You're dangerous, Catherine thought, stepping away from her rented four wheel drive, feet restless.
I REALISE WHAT I AM ASKING TAKES FAITH.
And why should I have faith in you? A voice in my head that started the night my mother died. You're probably some family curse that jumped from her mind into mine. Did you torment Michael as well? Is that why he disappeared?
I CAN GUIDE YOU TO YOUR BROTHER.
Catherine closed her eyes, rubbed them. While she'd been driving, this pilgrimage had made some sort of sense -- go to the place where her twin brother had disappeared ten years earlier -- but now that she'd arrived, tiredness and commonsense had caught up with her. She felt stupid.
Michael isn't here. And you're not here either. You don't exist.
She should have booked herself into the mental hospital when they'd offered her the place. Instead she was standing on top of a cliff in the middle of a rainforest talking to a voice inside her head. It was crazy. Dangerous.
I ONLY ASK THAT YOU FOLLOW YOUR DESTINY. YOUR BROTHER CALLS YOU.
She wanted to believe that so much her chest ached. To see her twin again. To hug him. To look into his eyes and know what he was thinking. She'd missed that so much. Even his hideously repetitive fairytale about a brown kingdom with its endless sword battles and pathetic maidens in distress, told so often in such detail. She'd take back every complaint she'd ever made if only she could hear it again, but Michael is dead.
YOU KNOW HE'S ALIVE. I WILL TAKE YOU TO HIM.
Despite herself, Catherine felt hope burn inside her. There was nothing to keep her here. No friends, all her family gone.
TAKE THE LEAP.
And then what?
The voice said nothing. Catherine stepped closer to the waterfall, gazed down its rocky escarpment to the deep green pool a hundred metres below. A gust of wind caught her and she swayed.
IF YOU STEP OVER THAT CLIFF YOU WILL DISAPPEAR EXACTLY AS YOUR BROTHER DID.
Into the belly of a crocodile?
YOUR BROTHER IS ALIVE. HE IS A KING.
Oh right. In the brown kingdom?
The voice made no reply.
She inched closer. A gust of wind lifted spray from the waterfall to mist over her sweat-soaked jeans and T-shirt. She knew this place, had been here before with the police a month after Michael had disappeared, standing on this very escarpment looking down into the pool. It had been smaller then. The wet season hadn't started and big flat rocks, which were now underwater, had been exposed. Splat rocks the police had called them when they'd thought she couldn't hear. The unlucky site of several suicides and because Michael had been last seen in the area, they'd naturally assumed the worst.
Catherine had been fifteen years old, standing on the edge of the waterfall feeling numb. Then a tingling sensation had come over her, and with it a lemming urge to jump. She must have swayed because the young officer at her side had grabbed her arm, pulled her back from the edge and put her in the police car. They'd taken her home after that. No more questions. Her mother's sickness had become worse and Catherine had left school to become a fulltime carer. Ten long years of hanging on to the only person she had left. Now even that was gone.
TRUST.
She closed her eyes and sucked in the cool air. Swayed. It would be so easy just to lean forward and... let it all go. The loneliness, the grief, the misery. Instead she opened her eyes and stepped backwards. Even without the sun blazing down it was unbearably hot. Humid. She'd heard that people did crazy things when their brains overheated. Bank robbery. Suicide...
Cyclonic clouds blanketed the horizon, driven by the annual monsoon season. Their heavy presence added green tints to a landscape already so vibrantly alive it was hard to imagine anything dying. Herself included.
Tell me where my brother is, she demanded. There had to be another way.
STEP OFF THE CLIFF.
And die?
The pause that followed her question set the hairs on the back of her neck prickling.
YOU WILL NOT DIE AS YOUR MOTHER DID, the voice assured her.
But even as she took comfort from that fact, Catherine couldn't stop the sudden intrusion into her mind: the memory of the last seconds of her mother's life. Breath soured by the cancerous flesh within, the emaciated claw of Danielle Ennae's hand had clutched her daughter's wrist, pinching a nerve. Pain, abrupt and shocking, had shot up Catherine's arm, hit her spine and exploded into her mind, triggering an image she had no conscious memory of -- a dark-skinned man with a tattoo covering the right side of his face, a man so handsome her breath had caught in her throat. She'd watched incredulously as he'd mouthed a word, then as suddenly as it had come, the image was gone. In the time it had taken Catherine to blink, her mother was dead.
WHEN YOU ARRIVE, YOUR BODY WILL BE THE ONE YOU NOW POSSESS.
She struggled to shake off the memory. To focus on the present. When I arrive? Will I be somewhere different?
WHERE YOU WILL MAKE A DIFFERENCE.
So God does play dice.
There was no reply.
Catherine looked down at her hands. They were trembling. She couldn't go on like this. Just... couldn't. Reliving the moment of her mother's death was like shutting a door. Her life here was over. It was time to move on.
She lifted her chin. 'I think I'm going to do it. To see Michael.'
Had she just said that?
YOUR TRUST WILL BE REWARDED.
Catherine looked around. Well, if you were going to make a grand gesture, this was the place to do it. In a primeval rainforest where you could scream your head off and no one would hear you.
Her heart rate kicked up a beat. She walked back to the edge. Looked down.
Just close my eyes and step off?
WHEN YOU FEEL READY.
My brother is down there? she asked.
YOUR LIFE IS DOWN THERE, the voice replied.
Catherine nodded to herself.
I want to live.
But she was going to --
No. Stop thinking. Just do it. She wanted Michael back and this was her only opportunity. One way or another, their separation was about to end.
Her hands clasped together and then rested at her sides. In her mind she saw herself doing an Olympic swan dive, but in reality she knew she was just going to jump out from the edge and become one with the water, falling in its cool embrace until she... until she reached her brother.
DO YOU FEEL THE CALL?
Catherine shivered, suddenly aware of a flesh-creeping sensation across her shoulders and the back of her neck. I feel something, she said, frowning as she remembered the lemming sensation that had gripped her ten years earlier. Probably fear.
THEN IT IS TIME.
Okay. Deep breath.
Still, she couldn't help casting a glance behind her, at the mud-covered four wheel drive waiting patiently on the dirt track, at the spiky pandanus lining both sides of the river, then up to the sky, so turbulent, and yet so perfect.
LET IT GO, the voice said. YOUR DESTINY IS NOT HERE.
Catherine turned back to the edge. Closed her eyes. Jumped.
Copyright © 2001 by Louise Cusack
Reviews
There are currently no reviews for this novel. Be the first to submit one! You must be logged in to submit a review in the BookTrackr section above.
Images
No alternate cover images currently exist for this novel.